Blog posts tagged with "martin-luther-king"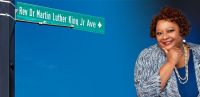 Martin Luther King, Jr. Ave
Monday, January 16 Pitney Bowes celebrates the work and legacy of Dr. Martin Luther King, Jr. through a day of service named in his honor. Another way that we honor individuals is my naming streets after them. In many ways life on "King Street" sits at the intersection of the pain, the progress, and the promise of the journey to equality for all.