Confronting new realities: How government agencies can modernize mailing and shipping processes to save money, increase efficiency and prepare for the future
2020 challenged state and local agencies to reduce operating expenses and navigate the new realities of remote working, all while trying to maintain business continuity and deliver a safe, socially distanced experience for the community.
In response, many government organizations are adopting technologies to modernize and streamline their processes. By modernizing sending and receiving workflows, governments of all types and sizes can:

• Realize savings
• Mitigate risk
• Increase efficiencies
• Add much-needed agility
• Be better prepared for the future
Download Confronting New Realities: State & Local Government Edition to see how Pitney Bowes solutions can help your organization.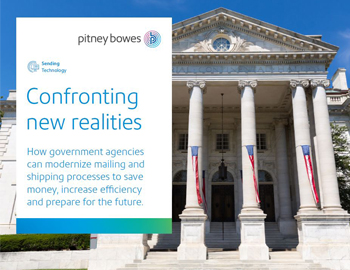 Download the State & Local Government eBook