Enhancements
Enhancements for software solutions clients
Welcome to our dedicated website where you can find the latest on our systems upgrades and hear about the newest features of our enhanced online account management.
Account number

Case management

Improved billing

Billing address changes
Your new account number
You have been assigned a new 10-digit account number that will streamline access to your account information and make it easier for you to manage your business with us.
Keep an eye out for your new account number.
Please refer to your new account number when making your payments with a check or electronically.
Our case management site is your online resource where you can create, update and monitor your cases or view historical cases. Get started today by going to pitneybowes.com/softwaresupport.
If you are already familiar with our online case management, you don't need to do anything differently. Just go to pitneybowes.com/softwaresupport and continue to enjoy the convenience of managing your cases online. 
Get support right at your fingertips.  Simply enter your "How do I?" question in our searchable knowledge base
(Note: If you currently work with a Pitney Bowes partner for support, please contact your Pitney Bowes partner directly for technical support.)
An improved billing experience
We've simplified your invoice with new features designed to help you find detailed information about all your Pitney Bowes products and services in an easy-to-read format.
Look for your enhanced billing and account information arriving with your next Pitney Bowes invoice.
Avoid payment processing delays by including your new account number and payment coupon located at the bottom of your invoice.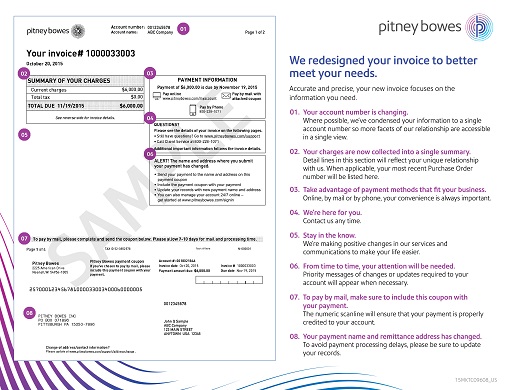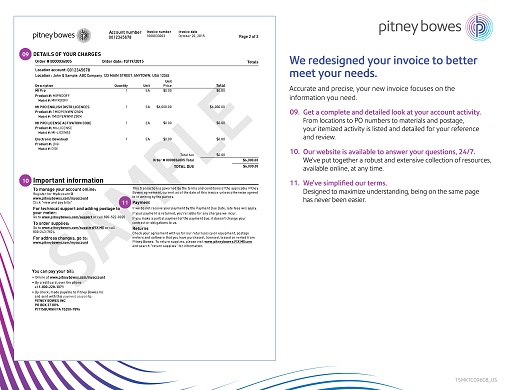 Name and address where you send your payments has changed
The name and address where you submit your check and electronic payments has changed. Please be sure to update your records to avoid payment processing delays. 
Beginning with your next Pitney Bowes invoice, please submit your check payments to:
Pitney Bowes Inc.
PO Box 371896
Pittsburgh, PA 15250-7896
Learn more about our alternative payment options.
To avoid payment processing delays, please include your new account number and payment coupon located at the bottom of your invoice when making payments.