Pitney Bowes Deposit Account*
Simplify cash management for your mailing and shipping logistics, and minimize disruption, by consolidating all related funds into one deposit account.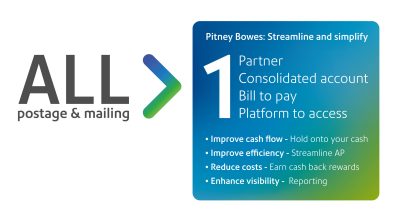 Postage Payment Example
Customer deposits funds into Deposit Account
Deposit Account funds are used to pay for postage as needed
If your deposit account is short on funds, pay for postage with Line of Credit and mail as scheduled.
Pitney Bowes invoices customer for Line of Credit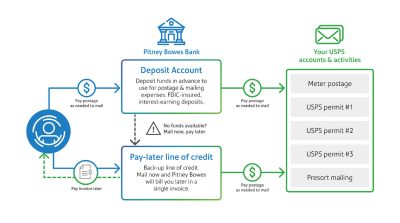 Solutions for Your Business
Streamlining your postage, mailing, and shipping expenses with a Pitney Bowes Deposit Account can free up cash flow and improve efficiencies for a wide range of business needs.
Manufacturers, Producers, Wholesale Distributors, Retailers
Free up cash to cover shortfalls from upfront production costs and fluctuating costs in your supply chain
Highly Regulated Services
Mail and send on time without disruption and improve expense tracking for accurate bill-back
Government – Federal, State, and Municipal
Gain visibility of your postage deposits across multiple accounts - meters, presort and permits – in a single consolidated account
Third Party Senders
Streamline process and improve expense tracking for accurate bill-back
*Also referred to as Pre-Paid Deposit Account and Reserve Account
Banking products and services are provided by The Pitney Bowes Bank, Inc., Member FDIC. Credit and deposit account approval terms are determined by and are subject to change. This is not a commitment to lend. Pitney Bowes, Pitney Bowes Bank, and the Corporate logo are trademarks of Pitney Bowes Inc. or a subsidiary. All other trademarks are the property of their respective owners.