Shemin Nurmohamed
President, Sending Technology Solutions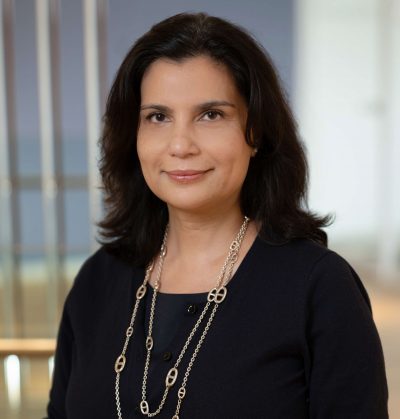 Shemin Nurmohamed is the President of Sending Technology Solutions (SendTech). In this role, she is responsible for growing the SendTech shipping business and accelerating the reinvention of the mailing business globally. SendTech digital solutions helps increase efficiency and satisfaction in shipping, mailing, receiving and financial services by reducing costs and complexity for our B2B customers.
Previously, Shemin served as Senior Vice President Product Management, SendTech where she had direct accountability for the strategy and execution of the product portfolio globally which generated over $1.4B in annual revenue and over $400M of EBIT. In addition to modernizing the declining mailing platform, she created additional revenue streams through SaaS/digital offerings and micros services in shipping and new adjacent spaces.
Shemin joined Pitney Bowes in early 2016 as Vice President, Document Messaging Technologies France, where she led the growth of the business by 5% in a significantly declining market. Since then, she has held leadership roles in European Sales and Global Strategy. Prior to joining Pitney Bowes, Shemin had a successful 17-year career at IBM as CFO and Sales Director of various business units at the European and global levels.
Shemin is regularly invited to speak at seminars and conferences in the US, Europe, and the Middle East. She has also given a TEDx Talk and authored the book Outshine. Shemin is dedicated to helping working women progress in their careers and companies focus on creating diversity talent pipeline.
Shemin holds a BA in Chemistry from Cornell University, an MA from the University of Toronto, and an MBA from Henley Business School in the UK.