Pitney Bowes Brand Laser Toner Printer Cartridges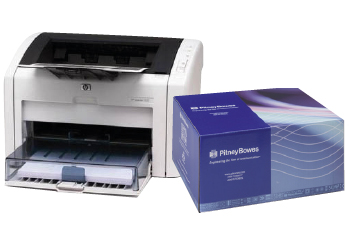 Ink & Toner cartridge quality at a price you can afford!
With Pitney Bowes Brand ink and toner cartridges you'll get Original Equipment Manufacturer (OEM) equivalent quality and reliability at a lower price. We have an extensive offering of replacement cartridges for all major OEM printer, fax and multi-function device brands.
Our high quality replacement ink and toner cartridges are:
Priced at a significant savings of up to 50%
Performance tested for quality and reliability to meet the original OEM's ink and toner specifications
Produced in our ISO certified facilities and covered by our Ink & Toner Protection Warranty
Recycled when empty, therefore reducing the number of cartridges that end up in landfills minimizing the number of new cartridges created
We've got you covered! Pitney Bowes Brand Ink & Toner Protection Warranty
Pitney Bowes warrants all Pitney Bowes brand ink & toner products for a period of one year from date of purchase, subject to normal storage conditions in a climate controlled environment. Additionally, Pitney Bowes brand replacement cartridges will not cause damage or abnormal wear to any printer, copier, or multifunctional device (with normal use) and comes with a Protection Warranty that covers:
Cartridge Replacement
Equipment Repair
Pitney Bowes brand replacement ink and toner cartridges make sense for your business.

Call 1-800-243-7824 option 1, then option 3 or email us for a free quote or more information about our products.