SendPro® Mailstation​
The easy-to-use, compact, digitally-connected mailing solution designed to print USPS® postage for letters, large envelopes and postcards, without ever going to the Post Office. 

$22.99/month after 60-day free trial*
Start Free 60 Day Trial*

Includes:
Large, color touchscreen

Automatic rate changes
Access to First Class®, Priority Mail® and Extra Services on-device

SendPro Online for shipping, tracking, accounting, and extra savings.
Free shipping on your order.

SendPro Mailstation is the easiest-to-use*** sending solution.
Pitney Bowes®
SendPro Mailstation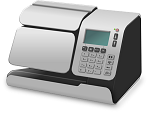 Quadient
IS-280 iMeter™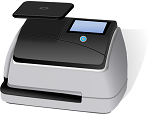 Francotyp-Postalia
PostBase™ mini
***Among 9 Pitney Bowes mailstation2 clients when comparing to IS-280, PostBase mini, and SendPro Mailstation devices during a blinded side-by-side study conducted in the Pitney Bowes Competitive Meter Usability Research (October 2019.) Competitive images are an approximation. Drawings may not be exact in every detail.
* New customers only. Postage and supplies not included. $22.99/mo after trial ends. ** 4 cent savings as of 1/24/2021. 40% savings is maximum savings on packages weighing 10 lbs being shipped to Zone 4 and is available through SendPro Online only.
JD Power recognizes Pitney Bowes
Pitney Bowes has been recognized by J.D. Power for providing "An Outstanding Customer Service Experience" for its Assisted Technical Support. Learn More.