UPDATED: August 31, 2018
Our online Shop has all the supplies you need for your Pitney Bowes products. The store is categorized by ink and postage supplies; document presentation materials; envelopes, shipping, packaging; printer, copier, fax ink toner.
Purchasing supplies is done using your account profile. Sign in online and select the link in the upper-right to go to the Shop. The ordering experience is associated to the products and services in your profile and your order history, making it quick and easy to locate what you need. Other features include highlighting items based on popularity, and special discounts and offers may exist.

TIP: If you do not have an account, learn how to create your profile.
Order History & Status
To view your complete order history or check the status of an order, sign into your account. From the profile icon menu, select Order History & Status.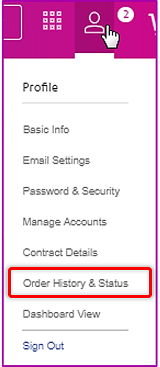 On your Order History page you can view details related to all prior orders, including:
Download all previous transactions and orders
View Tracking number of an order
Easily Reorder Items
Print Receipts