UPDATED: September 18, 2016
The Pitney Bowes Total Postage Management (TPM) service makes managing postage expenses easier by providing real-time information across multiple postage accounts. Total Postage Management is an online reporting interface featuring postage account balances, payments, transaction information and more.
Total Postage Management FAQs:
---
How do I get started?
First, create your account online profile. Then Sign In and add your Postage By Phone® account(s) to your profile. Once complete, you will have access to the Total Postage Management - online, anytime.
Sign In and select the link: Total Postage Management from the Your Products drop down in the top menu.

To add your account(s), enter the information requested:
Enter the information, then select Add.
---
What information can I view with Total Postage Management?
The Total Postage Management interface allows you to run reports, such as Transaction History, which you can adjust by date range and specific account.
You can view these reports on screen, or press Download Report to generate a file you can print.

Run reports related to:
Postage Activity - including Purchase Power® usage and balances
Deposit Balances
Payment Information
Permit Mail - including Express Mail and Business Reply Mail
Presort processed mail
Mail processed at third-party mail house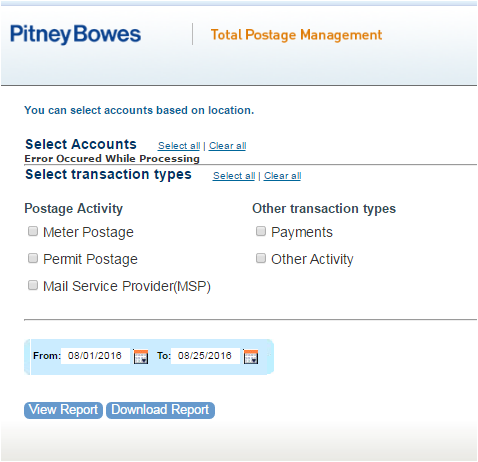 ---
How many meters can I have with Total Postage Management?
Total Postage Management can report on all of your meters as long as each account is linked to your online profile.

---
Can Total Postage Management show non-Pitney Bowes meter activity?
Yes. You can link a non-Pitney Bowes meter to your postage account. To do so, contact us: 888.737.6486.
---
Is there an annual or monthly fee for Permit Services, non-Pitney Bowes refills, or Mail Service Provider transactions?
There is no fee for using Total Postage Management for your Pitney Bowes meter. There may be set up and maintenance fees for non-Pitney Bowes meters, mailhouse or permit setups. 
The Total Postage Management Service is available to anyone with a Postage By Phone (PBP) account or Purchase Power.
TIP: Your Postage by Phone account number is 8-digits located at the top of your invoice.
---
Who can I call for help with Total Postage Management?
Permit Mail questions: 888.737.6486
Postage By Phone or general client support: 800.243.7800