Products affected: INVIEW™ Total Meter Reporting
INVIEW™ Total Meter Reporting, an optional online postage management tool, helps you run reports to analyze your postage use.
Follow these steps to run and print an INVIEW report.
Sign In to Your Account
Find INVIEW™ Total Meter Reporting and select Launch (>).

The next page opens Total Meter Reporting. If you are a first time user, provide your 10-digit Business Partner Number (BPN) using one of the two options:

Download the BPN file template; enter your information. Then Upload the file and select Submit.
Enter up to five BPN numbers in the fields on-screen and select Submit.
 You can add additional BPNs using these options anytime.
If you are a current user, you can skip the previous step and select the blue button: Continue.

Select a report type from the Welcome screen.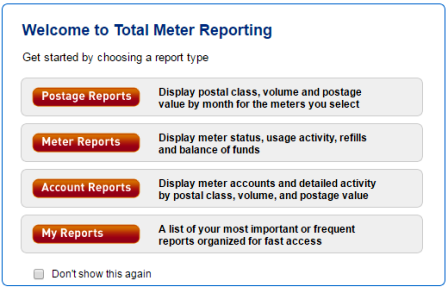 Choose your report from the drop-down list.
Choose your meter(s) from the drop-down list.
Choose your report time period.
Select Run to run your report.

Select Print to print your report.
Select Export to… to export your report.
Use the
Contact Us
options below if you need further assistance.
IMPORTANT
:
The data collected for the Postage Reports gets compiled on a monthly basis and does not become available until the month ends.
INVIEW Total Meter Reporting is an optional feature. Contact your Pitney Bowes sales representative for information about options and pricing. 
UPDATED: August 14, 2021