UPDATED: 30 August 2016
Total Meter Reporting is now INVIEW™; a postage management tool available online. To get started, first create your account online. Then follow these steps:
Sign In to your account
On the main page, or via the Your Products drop down in the top menu, locate INVIEW™ Total Meter Reporting and select the link to Launch (>)

The next page opens Total Meter Reporting. If you are a first time user, provide your 10-digit Business Partner Number (BPN) using one of the two options: 

Download the BPN file template; enter your information. Then Upload the file and select Submit.
Enter up to five BPN numbers in the fields on-screen and select Submit. 
You can add additional BPNs using these options anytime.

If you are a current user, you can skip the previous step and select the blue button: Continue.

The blue bar at the top of the next screen is the Navigation Bar. Here you can choose a report, select a machine, and change your date range.

Starting on the left side you will see a drop-down. When you select the menu you will find the available reports for that particular tab.
Directly beneath the drop-down is a tool, About this report. Select the tool for a description about what you can find in that particular report.
On the right side you can print a report from the website. Select Print and the report will generate into PDF format to easily print the file. You can also export into CSV or Excel.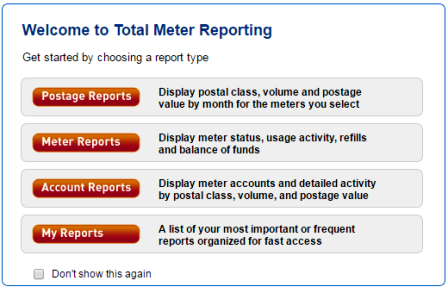 View and report on postage meter funds and usage
Consolidate and group meters across the enterprise
Track Daily/monthly spend or class of service by pieces or dollars
Easily create ad-hoc reports without IT involvement
Access postage meter departmental accounting data easily via your account
The data collected for the Postage Reports is compiled on a monthly basis and is not available until the month has been completed.
---
Total Postage Management (TPM)
This financial management tool allows you to centrally fund, pay and report postage for: Postage Meters; Permit Mail including Express Mail® and Business Reply Mail; Presort Processed Mail; Mail Service Providers. Learn more about Total Postage Management.