To comply with USPS® regulations and maintain your security, you must follow specific steps to correctly return your meter to Pitney Bowes.
You must remove all postage funds from the meter by withdrawing (transferring) the funds back to its original funding source(s). This process is called meter deactivation. 

 Get deactivate instructions for your meter model.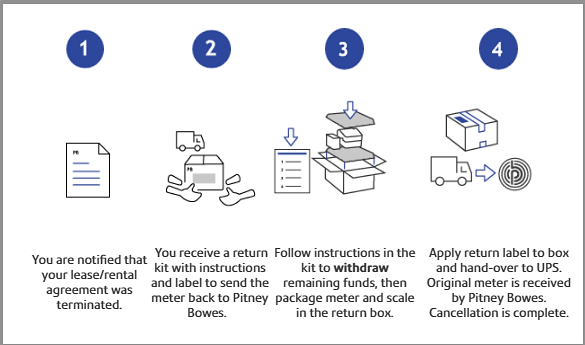 First, notify Pitney Bowes to arrange a return when canceling.
To expedite your request, sign in to your account to go directly to the cancellation form for your lease or rental:


Or, contact Pitney Bowes at 1-844-256-6444, choose Account Support and then say "Cancel" to bypass the menu options. Please have your Account number ready.
---
EFT/ACH payments
View instructions to cancel your EFT/ACH payments for your postage account, if necessary. 
---
Prepare the Meter to Return
Select the link for your meter -- download the PDF which includes steps to deactivate and withdraw any remaining postage funds, and instructions to correctly pack your meter:
NOTE: You must contact Pitney Bowes to return all other meters: DM400C™, DM450™, DM525™, DM550™, DM575™, DM800™, DM825™, DM875™, DM900™, DM1000™, and DM1100™.
---
Inoperable Meters
If your meter is inoperable and funds cannot be transferred, you can pack and ship non-functioning equipment as-is. Follow the instructions included in your return kit or from the list above to correctly pack your meter to return to Pitney Bowes.
Funds from the impaired meter will be transferred at our facility and credited to the account(s) that initially funded the postage. Allow for additional processing time.
---
Follow all steps outlined in the PDF guide for your meter (see above) to transfer your funds and deactivate to ensure you receive a credit or refund when returning a meter.
Depending on the method of payment you used to fund postage, your account may be credited, or you may be eligible for a refund after you return equipment to Pitney Bowes.

UPDATED: February 22, 2019