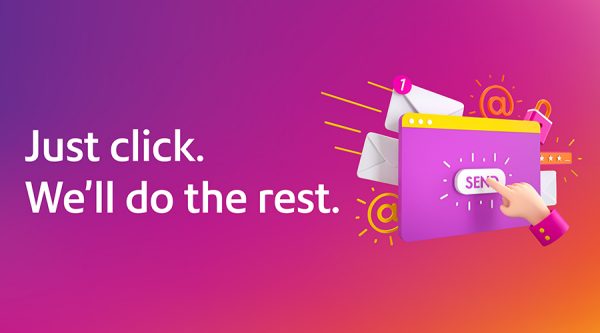 Hybrid Mail digital and print platform
Just click, we'll do the rest. Our solution enables organisations of all sizes to securely send digital documents for physical print, production, digital delivery and mailing. All it takes is a click with our unique print driver. The platform is easy to use, and you can start sending your first mail within hours. We'll help drive growth, increase agility with a subscription based consumption model and infinite on-demand scalability.
Contact Us
Our clients are the centre of Pitney Bowes.
We are proud to be trusted by these leading companies…
The changing business landscape in numbers
1 in 5 companies feel they don't have the right partner ecosystems to enable transformative success
90% of large organizations globally will have adopted robotic process automation in some form by 2022
89% of leading digital businesses cite the value of agile, scalable IT in dealing with 2020 disruption
Download the infographic
Features and benefits
Hybrid Mail and Hybrid Mail Lite are adapted to meet the needs and budgets of small, medium and large businesses.
A single monthly subscription
No set up fees***
Item level tracking in real-time
2D bar coding verification
Preferential postage rates from 30p per letter** / 2-3 day delivery
Send print and postage from 40p per letter****
GDPR compliant
Web portal submission
Document submission type: Word and PDF
Fully encrypted using Amazon web services
Choose the option that fits best with your business.
Hybrid Mail
Postage: 1st class, 2-3 day delivery, international
Over 2,000
Online
Unrestricted
Unrestricted
Post/email
C5, C4
25 sheets
Hybrid Mail Lite
Postage: 2-3 day delivery
Over 500
How to guides
5
Up to 3
Post
Not available
Yes (chargeable)
C5
7 sheets
*Across paper, printer consumables, envelopes and postage. Savings could be more or less depending upon the complexity of the mailing required.
**C5 envelopes containing up to seven sheets of paper.​ 8+ sheets will be inserted into a C4 envelope and postage charges are higher.
***Subject to a minimum 2 year term for Hybrid Mail. No minimum term for Hybrid Mail Lite.
****1 sheet, 100 gsm mono simplex inserted into a C5 envelope via 2-3 day delivery.
*****Mail volume will also be dependent upon your operating costs across staff handling, paper, printer consumables, envelopes and postage. We will help you to choose the correct solution based upon your ROI.