Browse Articles in Taxes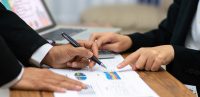 End-of-Year Tax Updates
Learn more about the possibility of obtaining tax breaks for 2022 and look ahead to offerings in 2023.

Tax Saving Moves for 2021
What is going on with government spending, debt limit, and other important bills? Are you familiar with the Secure Act 2.0? Anticipated tax changes for major business purchases.