Smart Lockers for Business: The Ultimate Guide
For decades, businesses have embraced technology to streamline processes, launch new services and transform nearly every facet of the enterprise. However, one segment of the workplace is often overlooked during digital transformations: the mail center.
Smart lockers for business driven by ecommerce
The number-one driver motivating enterprises to adopt smart lockers for their businesses is ecommerce. The booming ecommerce industry combined with consumer incentives like free shipping drove package shipping volume up by nearly 17% in 2020. The trend shows no signs of slowing down either, with annual shipping volume expected to increase by nearly 15% through 2024.
If you're wondering how online shopping habits are impacting your corporate mail center, consider this: a recent Pitney Bowes study found that one in five respondents prefer to receive packages in the workplace versus at home. That number goes up to one in three for millennials. Those percentages climb even higher for both groups if it's a high-value order.
The result? Overwhelmed mail centers, lost and misplaced packages and disgruntled employees seeking answers. Whether you're a 500-strong corporate office or a facilities management firm, the answer to these challenges is the same: you need a safe way to manage and track packages across the workplace. Smart parcel lockers for business are a secure, modern solution that help enterprises automate package delivery processes, establish a full chain of custody and give employees a convenient, contactless package pick-up service.
The more parcels a mail center receives each day, the more lost, misplaced or stolen parcels it experiences each year.
Smart lockers for business driven by remote work
Workplace dynamics have evolved along with shopping and shipping habits. Some 90% of companies are transitioning to a "hybrid" workforce that combines on-site and remote employees. This hybrid workforce compounds the challenge of package distribution. Parcels are delivered, but there's a chance the recipient is not onsite to receive them. Smart lockers for business help ensure employees their items remain safe and secure until they can pick them up.
An even bigger concern introduced by remote work and solved with a secure smart locker is asset management. Distributing and managing assets has always been a challenge for employers. Remote work has only increased the pain. As hybrid work environments become the norm, so too will smart parcel lockers as a secure and logical solution for managing IT, equipment and supplies for both remote and onsite workers.
Ensuring employees feel safe, productive and valued whether working remote at home or hot-desking it in the office is critical. And it helps explain why over 61% of enterprises are planning to invest in smart locker technology to meet their business challenges.
Smart lockers for business now and after Covid-19
Enterprises around the globe were severely impacted by the pandemic and the closures and mandates that followed. The need for social distancing further complicates already challenging enterprise services like package pick-up and asset distribution—especially with so many employees working remotely.
Waiting in line at a mail center or other distribution point isn't just an inconvenience now, it can be health risk. Maintaining safe distance isn't easy in a crowded mail center designed for volumes of mail versus packages. Enterprises are quickly waking up to this new reality, which is evident in a recent survey that revealed 53% of businesses are interested in a contactless solution that will keep employees and visitors safe.
How does a smart locker for business work?
Much like traditional business lockers in the workplace, a smart locker consists of multiple storage compartments and doors that lock. The similarities end there. A smart locker is more modular and scalable and the manual door locks have been replaced with digital security features that require barcodes or PIN numbers to access.
Smart lockers that integrate easily with business software and systems take enterprise security and automation a step further by allowing administrators to govern every package delivered to a locker from the moment it's dropped off until it's picked up by the recipient.
In short, smart lockers for business combine the benefits of workplace locker storage with the advantages of tracking software that automates processes and features live analytics. That means parcel drop-off and pick-up is just the beginning. Enterprises are also using smart lockers to automate asset distribution, IT maintenance and other business and employee-focused services.
Each business case for a smart locker is unique, but the simple steps involved in using and managing one are similar. Some of the most common enterprise scenarios are illustrated below.


Smart lockers for business and parcel pick-up
Scenario: Busy mail center of an enterprise
Software: Tracking
Smart locker operator receives parcels from carrier and scans their barcodes to enter the parcels' details into the smart locker's tracking system.
Operator delivers parcels to smart locker, triggering pick-up notifications to the recipients.
Recipient scans the access barcode from their notification at the smart locker.
The designated smart locker opens, and the recipient retrieves their parcel.
Management uses tracking software analytics to gain insight into fluctuating volumes, changing needs and irregular movements.
Smart lockers for business and equipment/supplies distribution
Scenario: Remote and hybrid work environments, any enterprise that manages equipment and supplies
Software: Tracking
Smart locker operator uses tracking software to create barcodes for each asset that needs to be tracked.
Operator delivers requested equipment or supplies to a smart locker, triggering a pick-up notification to the recipient.
Recipient scans the access barcode from their notification at the smart locker.
The designated locker opens, and the recipient retrieves their equipment or supplies.
Smart lockers for business and IT asset maintenance
Scenario: Campus IT departments
Software used: TBD
Employee files a ticket with IT to have equipment serviced, triggering a notification that includes an access barcode.
Employee scans the access barcode from their notification at the smart locker.
The locker opens and the employee drops off their equipment for servicing, triggering a notification to IT.
Once equipment is serviced, IT triggers a notification with an access barcode to the employee.
The employee scans the access barcode at the smart locker and retrieves their serviced equipment.
Top ten benefits of a smart locker for business
1. Increase safety and security
Smart lockers for business support health and safety in the workplace by offering employees and visitors a contactless pick-up option and by reducing the number of staff needed to manage the mail center and other distribution points.
Security-focused enterprises are adopting smart lockers to secure packages and business assets, control access and increase accountability. Access features like PINs and barcodes along with full chain-of-custody tracking keep items secure and accounted for from the moment a package or asset is scanned into the system until the rightful recipients retrieve them.
2. Automate processes and boost productivity
Smart lockers automate many of the laborious tasks associated with tracking individual packages and assets, with the added benefit of collecting usage data and creating logs. Manual asset management and package delivery processes are time consuming and error prone. A smart locker solution helps your business avoid costly mistakes by replacing spreadsheets and scheduled audits with tracking dashboards and live reports.
Smart lockers for business also help ensure packages are routed to the right employee and shared assets are available to those that need them when they need them. Employees can pick up packages and request, retrieve and return assets at their convenience or as schedules permit. Real-time alerts, automatic notifications and full chain-of-custody tracking free administrators from needing to hunt down package recipients or unreturned items.
3. Gather business intelligence
Smart lockers gather and deliver business intelligence with each swing of a locker door. Used together, smart lockers and tracking software can provide analytics and data reporting to help identify and remedy issues, enhance the employee experience and optimize operations.
Enterprises of all types and sizes are implementing smart lockers to govern packages and assets across the full chain of custody and gain insights into fluctuating volumes, changing needs and irregular movements.
4. Deliver the experiences employees expect
We live in a digital world and if your organization isn't delivering the convenient, on-demand experiences your employees expect, they might just seek out an employer who does.
Smart locker solutions help reduce turnover by demonstrating that you value your employees' time. No more standing in line at the mail center or service desk. Instead, they receive a notification alerting them that their package or asset is ready for pick-up from a smart locker and they retrieve it at their convenience.
But it's not just about speed and convenience anymore; autonomy and safety concerns are also top of mind. Smart lockers began offering contactless pick-up before "contactless" was a popular concept.

5. Reduce misplaced packages and assets
The more crowded and busy a mail center or distribution point becomes, the easier it becomes to lose, misplace or misroute a package or asset. Through package tracking, you will be able to find out when packages were received and placed into the locker. The smart locker software can then identify who picked up an asset, when they picked it up, and in what condition it was returned. Staffers can track packages and assets from beginning to end in real time, creating a full audit trail.
For full security and control, tracking solutions can also allow you to designate who is authorized to access the locker to use specific business assets and equipment.
6. Automate business compliance
If an enterprise needs to track regulated documents and assets, ordinary inventory lists and spreadsheets are simply too risky. Neither are designed to handle large amounts of data and both are prone to human error. Smart locker solutions that include automated compliance features can protect your business and its reputation. Asset tracking software and dashboards provide the detailed usage logs needed to address internal security and policy policies, as well as industry-specific regulations.
7. Empower remote workers
Although much of the surge of remote work was spurred on by the pandemic, many employees are saying they don't want to return to business as usual. Instead, they want the flexibility to decide where they are most productive—whether that's working in the office or remotely. There are speed bumps that can interfere with that productivity, including the distribution of needed technology and supplies.
Smart lockers for business help organizations maintain health and safety protocols and support remote employees by offering contactless, 24/7 access to hardware, equipment, documents and other business-related assets.
8. Innovate new enterprise services
IT departments are using smart lockers to manage the repairs and maintenance of employee-issued laptops, tablets and mobile devices. Multi-shift teams are using smart lockers as secure workplace storage for personal belongings and to share equipment. Client services are using them to exchange business-critical documents and items with clients during and after hours.
The possibilities are endless. There are many other innovative ways to integrate smart lockers into your services, including ones yet to be invented. Be the one pioneering services to better serve your customers' needs.
9. Gain the Millennial edge
Millennials account for over a third of the current US workforce. You need a competitive edge when trying to hire and retain talent from this generation. Many enterprises are finding that by launching new smart locker services.
One of the defining characteristics of Millennials is their affinity with all things digital. They've grown up with access to broadband, smartphones, laptops and social media. They do most of their shopping, banking and job searching online. They're the first generation to enter the workplace wholly prepared to use whatever digital business tools you offer. Promote the digital-forward amenities your enterprise offers, including its smart lockers and your business has potentially won over a new recruit.
10. Brand it
Smart lockers for business are available in a range of sizes and configurations. Some can even be customized to fit your specific volume, space, layout and workflow requirements. Smart locker systems that integrate with your business software offer limitless options for how they're used and what processes they replace—from managing shared equipment to delivering secure documents.
Don't forget workplace aesthetics. A smart locker is like a blank canvas. Use that space to showcase your brand identity or convey a message to employees and visitors. See what ideas your creative team can come up with and transform your rows of smart lockers into a work of art.
Smart lockers cost considerations
There are many factors when it comes to determining the overall cost of a locker system. But to put it simply, it depends on the size and complexity of the system you need. And those can be broken down into two categories: hardware and software.
Hardware
Materials
Smart lockers are available in a variety of materials, each with differing costs. But you should consider the overall attributes any given material will provide. Given that workplace storage and parcel lockers undergo heavy use, investing in steel lockers makes the most sense due to the combination of strength, maintenance, flexibility and longevity.
Turnkey
Turnkey smart locker systems are specifically designed for the most common business delivery and storage scenarios and allow for some cost savings. They provide simplicity and convenience, along with fast delivery and installation windows. Turnkey doesn't mean you don't have options; most smart lockers are available in a selection of layouts and colors. Some smart locker providers offer multiple sizes of lockers in the same unit and the option to add columns as your business needs grow.
Custom
Custom smart locker systems may take longer to manufacture and deliver, which impacts its upfront expenditure. However, the extensibility and scalability they offer can make up for the additional time and cost.
First, consider if your business needs a custom solution. Maybe your team requires lockers in unusual shapes and sizes, such as an architectural office that needs to accommodate large rolls of blueprints, or a manufacturing facility that distributes construction material samples that come in atypical sizes. Or your mail center's footprint won't accommodate a turnkey layout. Whatever your specific workflow, space or need, a custom smart locker can be designed to precisely suit your business requirements. They can even be designed with your brand's precise color scheme, using industry-standard color-matching systems.
Smart locker software
Automation is both a business mandate and a defining characteristic of a smart locker solution. It's the operating and management software that transform an ordinary locker into an intelligent one. Regardless of the size and complexity of the system, it requires a control column to make it all work together.
Control column
The control column is located on the locker unit itself and serves as the processing center of the smart locker network. In addition to the processor, two of its most critical components, particularly in the case of a business's package delivery and asset lockers, are the barcode scanner and operating system.
Barcode scanner: With a simple swipe, a locker operator can scan a package or item's barcode before it's placed in the locker. With another simple swipe, an employee can scan the code they've been sent to retrieve the package or item.
Operating system: The locker's operating system allows locker operators or administrators to manage a single smart locker or multiple lockers across business locations. The locker integrates with business management software for tracking and resource planning.
Other components that interact with the control column include a touchscreen, ADA controller and other types of ID verification, including smart ID readers and PIN pads. These additional systems can contribute to the overall cost.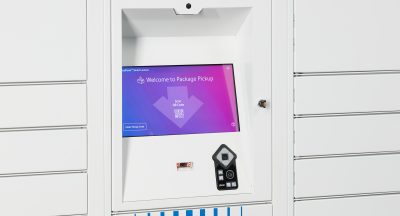 Management systems
Smart locker software is the key component to automating existing business processes. When combined with additional business software, your system's functionality can be improved, even innovated on.
Smart locker solutions that integrate with third-party software make it possible to create smart locker services based on the specific needs of your business and its employees.
For example, the most common use case for enterprises is track-and-trace software. Tracking software automates processes for delivering packages and managing valuable business assets and equipment. Most critically, it establishes an end-to-end chain of custody from the moment a package or asset is scanned into the system until an employee picks it up, or in the case of an asset, returns it.
This additional software functionality can affect the overall cost. Depending on the developer, this software that may require a licensing or subscription fee.
Choose the right smart locker for your business
As discussed, a smart locker solution is part hardware installation and part software deployment. To find a solution that delivers both at the highest level, take these three factors into consideration:
Ease of integration: How easily can you integrate your smart locker solution with your other business systems? Look for solutions that place an emphasis on third-party integration and interoperability.
Flexibility and scalability: Your business is ever evolving, and your smart locker solution needs to keep up—whether it's changing a business rule, creating a new service or just adding an extra column of doors. Prioritize solutions that can grow and change with your business.
Provider capabilities: The easiest, most cost-effective smart lockers for business involve a single provider that offers integrated hardware and software capabilities. Consider overall serviceability and onsite training and service, as well.
Smart lockers make good business sense
There's never been a better time to make employees feel valued. Smart lockers simplify time-consuming processes and enhance safety and convenience by providing autonomous and contactless package and asset services that digitally connected employees expect.
And the benefits go far beyond employee satisfaction. Smart lockers provide the security to protect valuable business assets and the digital intelligence required to optimize operations.
When you consider the rapidly growing advancements in the way we do business, from task automation to machine learning and artificial intelligence, the opportunities to innovate are limitless.