Everything you need to know about smart lockers
Organizations of all types and sizes share the same challenges today: an exponential growth in incoming packages, the need to share resources among a hybrid workforce, an increased focus on health and safety and heightened expectations for intuitive digital experiences.
What is a smart locker?
Much like their traditional counterparts, smart lockers are a simple, effective storage and delivery solution designed to protect the contents they hold. But that's where the resemblance ends because the physical lockers themselves are only a piece of the solution. What makes smart lockers intelligent enough for a modern business' needs is the operating and management software that powers them.

Smart locker builds
Smart lockers are designed to keep their contents secure while also being easy to access. It doesn't matter how smart a locker is if it's poorly constructed. From the materials used to build them to way they're assembled and deployed, construction should be a top consideration.
Materials
Colorful polycarbonates, eco-friendly bamboo, powder-coated steel—smart lockers are available in a range of materials to suit a host of needs.
Steel construction is highly recommended due to its superior strength, flexibility and long life. In particular, the quality-control standards of American-made steel ensures it's strong enough to keep items inside safe while still being flexible enough for a manufacturer to easily customize.
Standard
Standard smart locker systems are preconfigured to meet the most common delivery and storage needs. Often available with a selection of turnkey layouts and colors, standard smart lockers are simple, convenient and can be delivered and installed quickly. You don't want to sacrifice flexibility or scalability for convenience and speed. Look for preconfigured design that offer multiple sizes of lockers in the same unit and the option to add columns as your needs grow.
Modular
Custom, modular smart locker systems offer the most extensibility and scalability and are the best option for needs that a standard locker can't accommodate. Whether you require multiple oversized lockers, have a non-standard footprint to work with or want to automate a highly complex workflow, a modular smart locker can be designed to fit your exact parameters.

Smart locker software
Multiple software-enabled components contribute to a smart locker's intelligence, security and ease of use. Here are the most common smart locker software components.
Locks
Each door has a digital lock controlled by the control column. Smart locker doors open automatically after the recipient validates their pick-up from the lockers' touchscreen or barcode scanner.
Control column
As the processing center of the smart locker network, the control column provides its intelligence and connectivity. In addition to its processor, it usually includes the following features:
Operating system: Powers the locker network and communicates with other systems, allowing operators to manage lockers across multiple locations.
Touchscreen: Allows operators and recipients to interact with the smart locker.
Barcode scanner: Used by operators to scan a package or item's barcode before it's placed in the locker and by users to retrieve the package or item.
ADA controller: Helps ensure the smart locker meets ADA requirements by providing accessibility to all users.
ID verification: Verifies a recipient's ID and records the transaction for chain of custody reporting.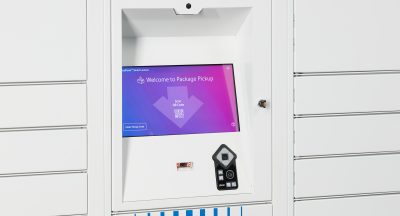 Management software
Replacing manual processes with automated ones is a key benefit of a smart locker system. Used together, software and smart lockers create automated systems that eliminate manual tasks and open the door to innovation. Smart locker systems that integrate with third-party software allow users to create smart lockers services based on the specific needs of their organization, employees and customers. Two common use cases include enterprise tracking software and retail ERP systems.
Enterprise tracking: Tracking software automates processes for delivering incoming packages and managing valuable assets and equipment. Most critically, it establishes an end-to-end chain of custody—from the moment a package or asset is scanned until it's intended recipient picks it up from the smart locker.
Retail ERP: The rise of Buy Online, Pick-Up in Locker (BOPIL) is made possible by retailers integrating their ERP systems with smart locker solutions. A retailer receives an online order, and a store associate picks it, scans it, places it a smart locker and moves on to their next task. The customer receives a notification, retrieves the order at their convenience and all relevant data about the purchase is automatically entered into the system.
How does a smart locker work?
Each use case for a smart locker system is unique, but the simple steps involved in using and managing one is similar. Some of the most common scenarios for both the operator of smart locker and its users are illustrated below.

Smart lockers and parcel pickup

Scenario: Busy mail center of an enterprise, government agency or university/college campus
Smart locker operator receives parcels from carrier and scans their barcodes to capture all package details in the smart locker's integrated tracking system.
Operator delivers parcels to smart lockers, triggering pick-up notifications to the recipients.
Recipient scans the access barcode from their notification at the smart locker.
The designated smart locker opens, and the recipient retrieves their parcel.
Management uses tracking software analytics to gain insight into fluctuating volumes, changing needs and irregular movements.

Smart lockers and asset management
Scenario: Remote and hybrid work environments, any organization that manages equipment and supplies
Smart locker operator receives asset request and creates a barcode for the requested item.
Operator delivers requested equipment or supplies to a smart locker, triggering a pick-up notification to the employee.
Employee scans the access barcode from their notification at the smart locker.
The designated locker opens, and the employee retrieves their equipment or supplies.
If an equipment return is needed, the operator triggers a second access barcode that allows the employee to return item to a locker.

Smart lockers and Buy Online, Pick-Up at Locker
Scenario: Omni-channel retailers, traditional retailers, campus bookstores, government agencies
Staff receives an order online and fulfills it with inventory at their location.
Staff delivers the order to a smart locker, triggering a pick-up notification to the purchaser.
Purchaser scans the access barcode from their notification at the smart locker.
The assigned locker opens and the purchaser grabs the order.
Purchase details are automatically routed to the appropriate ERP supply chain, inventory or finance workstreams.

Top 10 benefits of a smart locker system
1. Promote safety and security
Smart lockers help secure packages and assets while keeping your staff and visitors safe. Access features like PINs and barcodes along with full chain-of-custody tracking keeps items secure from the moment a package or asset is scanned into the system until the rightful recipients retrieve them. Smart locker services are being adopted by security-focused sectors like government, law enforcement and higher education to protect packages and assets, limit access and ensure accountability.
The automation and self-service features that smart lockers enable enhance health and safety by keeping crowds and chaos in the mail center and other distribution points to a minimum and by offering staff, customers and visitors a contactless pick-up option.
2. Enhance operations and increase productivity
Manual processes for asset management and inbound package delivery are time-consuming, error-prone and completely unnecessary if you have a smart locker solution. Just replace those spreadsheets and scheduled audits with a simple tracking dashboard and live reports. Smart lockers automate many of the laborious tasks associated with tracking individual packages and assets with the added benefit of creating logs and usage data.
In addition to saving operations time and resources, smart lockers help ensure packages are routed to the rightful recipients and shared assets are available to those that need them when they need them. Authorized users are given more autonomy to pick-up packages and request, retrieve and return assets. Features like real-time alerts and automatic notifications free staff from needing to hunt down package recipients or unreturned items.
3. Gain Actionable insights
Smart locker systems and services are prime examples of the internet of things (IoT) and the ability of connected devices to gather business intelligence. Together, smart lockers and tracking software can provide analytics and data reporting to help identify and remedy issues, enhance the customer experience and optimize operations.
Organizations of all types and sizes are implementing smart locker solutions to govern packages and assets across the full chain of custody and gain actionable insights into fluctuating volumes, changing needs and irregular movements.
4. Deliver a next-generation customer experience
We live in a digital world, and if your organization isn't delivering the fast, frictionless digital experiences your staff and customers expect, they might just seek out a competitor who does.
A recent survey queried consumers about what they feel makes a "good" digital experience and 83% chose the ability to "quickly accomplish what I came to do." Smart locker solutions help them do that. No more standing in line at the mail center or service desk. Instead, they receive a text or email alerting them that their package or asset is ready for pick-up from a smart locker and they retrieve it at their convenience.
But it's not just about speed and convenience anymore - autonomy and safety concerns are also top of mind. Less than half of consumers in one survey considered contactless experiences important before the COVID-19 pandemic, but that number has nearly doubled today. Smart lockers began offering contactless pick-up before "contactless" emerged as a popular concept.

5. Reduce loss, theft and unauthorized use
Theft and fraudulent loss claims may not be a problem at your organization, but mistakes happen—especially in overwhelmed and understaffed mail centers and equipment departments. Using a smart parcel locker to track packages and assets in real time creates an end-to-end chain of custody. You'll always know when that inbound package was received and picked up, and in the case of an asset, who used it, when they used it and what condition it was returned in.
In addition to chain of custody, the best asset-tracking solutions will also include features that allow you to designate who is authorized to access and use specific assets and equipment.
6. Automate compliance
Smart lockers do more than protect valuable assets and equipment. Their automated compliance features protect your company and its reputation. If an organization needs to track regulated documents and assets, ordinary inventory lists and spreadsheets simply won't cut it. Both are prone to human error and not designed to handle large amounts of data. Asset tracking software and dashboards provide the detailed usage logs needed to address internal security and policy policies, as well as industry-specific regulations.
7. Empower remote workers
The hybrid work model is surging in popularity. Although much of that surge was spurred on by the pandemic, many employees are saying they don't want to return to business as usual. Instead, they want the flexibility to decide where they are most productive—whether that's working in the office or remotely. There are speed bumps that can interfere with that productivity, including the distribution of needed technology and supplies.
Smart lockers help organizations maintain health and safety protocols and support remote employees by offering contactless, 24/7 access to hardware, equipment, documents and other work-related assets.
8. Innovate new services
IT departments are using them to manage the repairs and maintenance of employee-issued laptops, tablets and mobile devices. Libraries are responding to their patrons' needs for a contactless option to pick-up and return books. Pharmacies have implemented smart locker systems to great success by using them as a secure means of distributing prescriptions during and after business hours. The list goes on. . .
One of the most exciting benefits of smart lockers is that they inspire innovation. Imagine the next great service some organization will be launching in the future. Better yet, be the organization that's trailblazing that new smart locker service.
9. Gain a competitive edge
Every organization is looking for that next competitive edge. Many are finding it by launching a new smart locker service.
Say a customer who wants to order something locally has the choice of standing in line at the service desk of one retailer or swinging by the smart locker of another. Which retailer will they choose? Imagine an incoming freshman trying to choose between two universities. One school offers a host of digital campus services, including smart locker pick-up, the other doesn't. It might be the single differentiator that influences their decision. Or put yourself in the shoes of someone who isn't available to sign that paperwork during standard office hours. Give them the option to swing by a smart locker after hours and you've won over a new customer.
10. Make it uniquely your own
Where and how you use a smart locker is limited only by the imagination. Smart lockers come in all sizes and configurations and can be customized to fit your specific volume, space, layout and workflow requirements. Smart locker systems that integrate with third-party software offer limitless options for how they're used and what processes they replace—from managing shared equipment to delivering confidential documents.
You not only have flexibility when it comes to where you install them and what goes into them, you have options to consider what goes on them. A smart locker is a blank canvas waiting for a branding and communication opportunity. Consider your locker setup as a traffic-heavy billboard that showcases your brand identity.
Smart locker solutions and applications
Smart lockers are being employed by a range of sectors for a multitude of applications. The following is an overview of some of the most common solutions and the industries that are fueling their adoption.

Smart parcel and postal lockers
As online sales increase, so do the number of packages pouring into enterprise and campus mail centers. Employees and students are also consumers and it only makes sense to have your online purchases sent to the place you spend most of your day or the school you attend. Most mail centers weren't designed to staff or manage for this onslaught of packages. Enter the smart parcel locker with the security, tracking and chain-of-custody features busy mail centers need to streamline and enhance processes.
While smart parcel lockers are more commonly thought of for packages, they're also being used as a safe, secure and convenient way to distribute mail 24/7. This helps explain why providers with existing ties to USPS and the shipping industry are leading the smart postal locker movement. Note that smart lockers do not serve as PO boxes, but rather as a way to manage inbound mail once it's received from the carrier. Managing outbound mail, including printing shipping labels and sending packages from a smart locker, is an application coming our way soon.
Smart asset and distribution lockers
Yesterday's "tools of the trade" are today's high-tech, high-value assets. Laptops, mobile phones, field equipment, PPE—regardless of the asset, if it's needed to get the job done, then it needs to be tracked, maintained and made easily available. The shift to a hybrid workforce only compounds the challenges for companies who need to distribute necessary materials and supplies ad hock. That's why organizations across nearly every industry are putting smart asset and distribution lockers to good use.
In addition to preventing theft and loss, asset and distribution lockers streamline the secure allocation, delivery and management of assets. This smart locker solution is increasingly sought after by organizations that need to ensure an end-to-end chain of custody of assets for compliance reasons.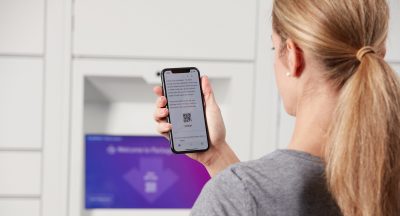 Smart retail lockers
Buy Online, Pick-Up in Store (BOPIS) services help retailers reduce the cost of last-mile shipping by allowing them to leverage in-store inventory. Now, omni-channel retailers are expanding their BOPIS service to include Buy Online, Pick-Up in Locker (BOPIL). The pandemic helped drive the adoption of BOPIL as online orders surged and consumers began prioritizing contactless experiences. Directing customers to a smart locker kiosk versus your customer service desk not only provides the pick-up experience customers want, it frees staff to focus on other tasks.
Locker in retail environment

Smart community lockers

Government agencies and local communities are adopting smart community lockers to enhance public services. Smart lockers allow people to request important documents like licenses and permits and retrieve them on their own schedule. Just as importantly, smart community lockers provide the tracking and end-to-end chain of custody required to keep these transactions secure, private and compliant.
Smart locker maintenance and support
The cost of maintenance can make or break a return on investment. The solution? Focus capital investments on equipment that seldom fails and is cost-effective to fix when it does. Smart lockers make it easy to follow that advice.

Downtime is infrequent with smart lockers and they normally require minimal maintenance. Smart lockers generally are operational over 99% of the time. Some smart lockers come equipped with emergency battery backup, to ensure the smart locker remains fully functional. In the rare case of a complete power outage or software malfunction, manual override features ensure you can still access the locker's contents.
Lock and hinge failures are the most common problem that might occur, but that only impacts an individual compartment. In those cases, that specific locker can be taken out of service while repairs are made, leaving the rest of the system fully operational.
The life span of a kiosk is often quoted to be around 10 years. However, this is likely a conservative estimate of lifespan. Physical lockers built out of American steel should last indefinitely and regularly planned software or system updates should result in minimal, if any, service interruption.
What to look for in a smart locker and its provider
This isn't an ordinary hardware installation. Or a typical IT deployment. It's both. You need to evaluate the build quality of your locker as well as its software capabilities.

Features you should evaluate include:
Equipment delivery options
Installation options
Onsite training and service
Integration with existing tracking software
Build and lock materials
Serviceability and lock replacement
Manual override capabilities
Touchscreen display accessibility
Availability of IT and software support
Smart locker storage requires a partner with a strong service infrastructure who can immediately respond when you call. You'll also want to assess the longevity and reputation of your potential partner to ensure they can support you and your smart locker investment for years to come.
Smart lockers for smart organizations
There's a reason why organizations across multiple industries are deploying smart lockers systems for parcel delivery and asset management. Smart lockers easily address the realities of a 24/7 on-demand world, whether it's processing incoming packages, sharing resources, establishing health and safety protocols or meeting the heightened expectations of staff and customers.