Meeting the Challenge of Technical Service Delivery Today
Finding technical talent is increasingly difficult while client expectations for great service continue to rise.
It seems that news reports out of every industry today echo the same sentiment – "We're hiring."  This reality has even created a new term: "the Great Resignation."  And recent headlines from Forbes indicate that this trend will continue.  Job creation is high as are job openings at almost every company. 
https://fortune.com/2022/07/21/great-resignation-40-percent-want-to-quit-where-are-they-going/ 
This movement has hit the service industry hardest. Whether in retail, restaurant, or high-tech field service, it is hard to find talent for open positions.  Simultaneously, client expectations for service delivery are rising, and client experience can make or break your brand reputation.
According to Gartner's TalentNeuron report, these key takeaways illuminate the costs and challenges of navigating the hiring process: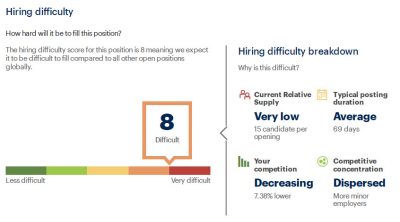 Hiring Difficulty for this population is rated 8/10, which they qualify as difficult to very difficult. 
Supply of available talent is very low with only an average of 15 candidates per opening (application rate)
Average posting duration is 69 days. Typically, we conservatively assume 3 weeks from when a positing is taken down to when a person starts.  So, Gartner assumes 90 days as the average time to hire.
The average cost per hire in 2022 is $4,700.
The full cost to hire, train, and ramp up a new employee is at least 50% of an annualized salary.  If we take the midpoint of the average salary ($65k), that would put the average cost here at $32.5k

Hiring, on-boarding, and proper training always take time and financial investment, but the lack of qualified candidates makes this a bigger challenge today.  So, how do you go about meeting your clients' expectations for service delivery in this tight market?  And what do you do when your client needs service now?  
For many in the technology industry today, the solution is to partner with a service provider.  This is a desirable solution either for full client coverage or for flexible client coverage when and where it is needed (by region, geography, or product line).  
And what is the service provider of choice for so many businesses today?
The answer is Pitney Bowes Service Delivery Innovation. 
With our suite of service solutions, you'll deliver high-quality customer service from a trusted network of national and global professionals. 
Satisfaction ratings, comments and trends are analyzed to drive continuous improvement and ensure client satisfaction. In fact, our current NSAT ratings continue to prove we are delivering the highest quality customer experience.  
Backed by over 100 years of experience, the Pitney Bowes team is here to meet your customer demand and help you not only achieve, but exceed, your business goals.
Learn more about our award-winning Service Delivery Innovation here: