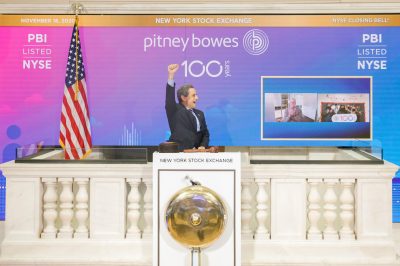 Pitney Bowes Rings Closing Bell at New York Stock Exchange in Celebration of its 100th Anniversary
As Pitney Bowes continues its yearlong celebration of its 100th anniversary, CEO and President Marc Lautenbach was joined by employees from the Rancho Dominguez Presort site in Los Angeles to virtually ring The Closing Bell at the New York Stock Exchange (NYSE) yesterday.
November 16th is a special day in Pitney Bowes history marking the date when the first postage meter – the Model M Postage Meter from Pitney Bowes – was put into commercial use. ­­This year also has added significance marking Pitney Bowes 70th year on the NYSE.
As an essential business, Pitney Bowes made the decision to invite five employees from the Los Angeles Presort site because - as representatives of Pitney Bowes more than 11,000 employees around the world – they are at the heart of the company's success, living our values of 'doing the right, the right way' and going above and beyond their responsibilities during the COVID-19 pandemic.
"We have a large site and could have chosen a lot of people for sure, but in trying to keep things as socially distant as possible we decided on five being a solid number for the event," said Ryan Radzinki, General Manager of the Rancho Dominguez Presort site. "Each of them cares about our shop and our employees and exudes doing the right thing the right way each day without trying."
The five essential workers on screen with Marc are the personification of the Pitney Bowes culture – client, team, win, and innovate - the four pillars that have helped Pitney Bowes reach this 100-year milestone.
They included: Eneida Cerda, operations manager, Alex Mendez, facility manager, Leslie Herrera, receptionist and lead of fun & engagement activities, and Katherine Aguilar, executive client relationship manager.
Since Arthur Pitney and Walter Bowes first met to put their ideas together, Pitney Bowes has had a living legacy of always innovating, adapting and striving to do better.
One thing, however, has never changed. Pitney Bowes will always be a company driven by values. From the beginning — founded on innovation and powering commerce from day one — we have sought to do the right thing the right way for our customers, our people, and the world around us.
Pitney Bowes has been recognized for its exceptional workplace culture, including Bloomberg's 2020 Gender Equality Index, Forbes Best Employers for Diversity, Best Employers for Women and America's Best Large Employers lists.
Watch Marc Lautenbach's Work This Way Q&A with NYES host Farnoosh Torabi below.