Send Letters and Documents
Mail and ship confidently from your office or home.

Bring the post office to your office. Validate addresses and apply correct postage to save time and money.
Ways to simplify your sending process

Simplify sending
Easily apply official USPS® postage to the letters, flats and small parcels you send using a single online solution or sending device.

Ensure accuracy
Accurately rate every letter or package, including validating the address before you send.

Spend less
Save money vs. stamps and access commercial discounts not available at the post office when you ship parcels and packages.

Save time
Avoid trips to the post office with tools to accurately weigh and rate every letter, flat or package you send.
Make sending easy
Simplify sending with our SendPro® family of solutions. With SendPro, you have the choice of using an online application or a sending device to apply official USPS postage on everything you send – whether it's letters, cards, flats or packages. You can send more than just USPS. SendPro provides options across multiple carriers to help you identify the best sending choice from a single solution.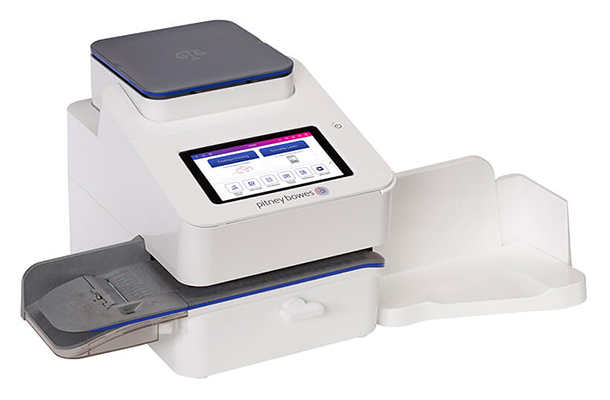 Send with confidence
With integrated scale, built-in address verification and automatic postal rate updates, SendPro takes the guesswork out of mailing and shipping. Feel confident that whatever you're sending will arrive at the correct location.
Spend less on letters and packages
Automatically save vs. stamps on every First-Class letter you send. The USPS provides discounts to mailers who use an online solution or device, such as SendPro. Additionally, save money with special Commercial Base discounts on the larger items you send, like Priority Mail, just by printing the shipping label from SendPro. You get access to discounts you can't get at the post office.
Learn more      Learn more about postage discounts
Spend less time on mailing and shipping
Avoid trips to the post office with tools to accurately weigh and rate every letter, flat or package you send. By applying accurate postage and having the correct address to send your mail, you send more confidently. With no need to second-guess yourself, you reduce trips to the post office. You can also use SendPro to schedule pickups for the packages you send, plus track your parcels in one consolidated solution.
Learn more      Explore the SendPro Family
Success Stories & Insights
<! -- Full Width Banner --> <! -- Half Width Banner -->