Online Postage - Buy & Print Stamps Online
We make buying and printing postage stamps and shipping labels online simple. No matter if you're working remotely or running a business from home, you'll be able to print stamps, weigh packages and get the exact postage you need every time – anytime, anywhere.
Find the Online Postage Solution That Is Right For You
Choose the Best Online Postage Option For Your Business
No matter if you run a home business or a large company, there's an online postage solution just for you.
SendPro® Online
Starting at $4.99/mo.
One
USPS® (standard) (Optional Upgrade)
FedEx® and UPS®
Simple User
First-Class and Priority Mail® Packages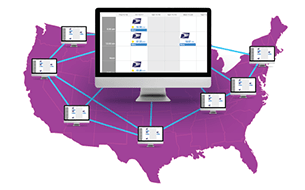 SendPro® Enterprise
Contact 877.727.3887 for pricing
Unlimited
USPS®, FedEx®, UPS®, and Regional and Local Carriers
Multiple Users and Locations
First-Class Letters and Packages; Priority Mail® Packages
Frequently Asked Questions About Buying and Printing Postage Online
Can you buy postage stamps online?
You can indeed buy postage stamps online from an authorized vendor like Pitney Bowes. You can either buy postage stamps in advance and use them when you need to or purchase them for a specific piece of mail you need to ship. You can buy the exact amount of postage you need for each piece of mail by specifying the size, weight, destination and required delivery time.
Can you pay for postage online?
Yes, you can. By purchasing postage stamps online, you can pay for your postage by having it charged to your credit card.
Can I print stamps from home?
Yes, you can, and it doesn't require any special equipment either. All you need is a regular computer printer. Rather than ordering postage stamps and waiting for them to be delivered in the mail, printing them from home will allow you to save time and get packages or letters out the door faster.
Can you purchase First-Class postage stamps online?
As a trusted partner of the United States Postal Service, Pitney Bowes allows SendPro users to purchase First-Class postage stamps online and print them from home, the office, or anywhere you can find a printer

Are You Looking For A Postage Meter?
Take control of your mailing expenses with the right postage meter.
JD Power recognizes Pitney Bowes
Pitney Bowes has been recognized by J.D. Power for providing "An Outstanding Customer Service Experience" for its Assisted Technical Support. Learn More.