Checking your postage account balance
UPDATED: January 23, 2018
View your postage balance online or by meter.
Online - Go directly to 'Your Financials' section of your account - select this blue button and sign in:

Your Purchase Power® postage account balance(s) are displayed first. View your available credit, balances, monthly minimum due, or download the details as a PDF or CSV file.
If you prepay for postage through Reserve Account or USPS®, once you sign in, select the 'Prepaid Accounts' link to view details or download your postage balance activity report.
TIP: If you do not have a profile, learn how to sign up, then access your Purchase Power and/or Reserve Account prepaid postage details online.
---
On your meter - Select your meter for steps to easily get balance information directly on your machine:
---
Your 'Account Overview' page gives a summary of Billing and Payment balances under three categories:
Invoices - this shows the amount due for your lease, rental, service, or supply invoice(s).
Purchase Power - this shows your current balance, and minimum amount due for payment.
Prepaid Postage - this reflects your current postage balance if you pre-pay for postage using the Reserve Account or USPS®.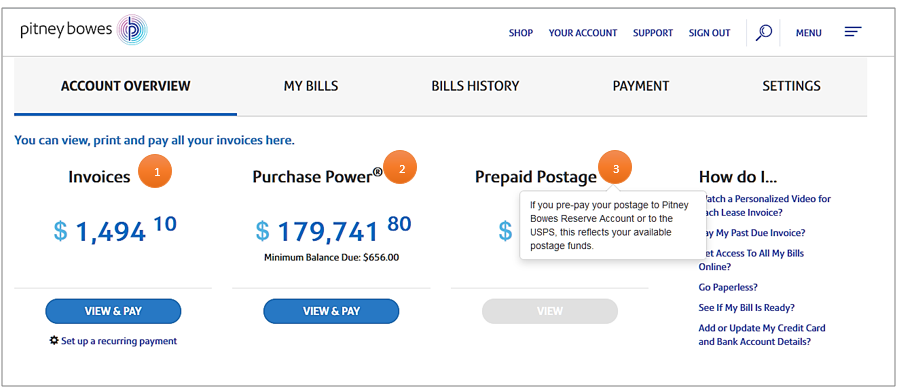 TIP: If you have not created your Pitney Bowes online profile, view instructions.