Digitisation and Digital Transformation
The Digital Mailroom
The digital mailroom. It's automatically better.
Automating your mail and going digital means information and assets can enter and leave your organisation smoothly and securely. Manual process are complex and take significant resources; they can also be the cause of delays, disruptions and costly errors. Not to mention data breaches.
Complete control of mail and costs.
The Pitney Bowes digital mailroom can process and distribute emails and physical mail in a few easy, automatic, trackable steps. GDPR is a breeze, mail arrives quickly and smoothly, intelligent mail readers scan for words and departments, and you have complete knowledge and control with automated tracking. Performance increases, accuracy increases.  Costs, mistakes and delivery times goes down.
Intelligence. Delivered.
We have an intelligent and flexible suite of assets that can help transform your inbound mail. From scanning mail for keywords and redirecting to the correct department, to delivering management information and mail at the speed of thought - the digital mailroom does things your manual system can barely attempt. A near flawless system for focussed businesses.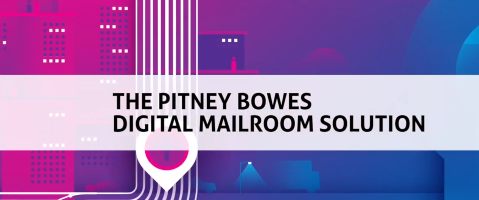 Find out more about how to find solutions to your mailroom challenges.