Pitney Bowes and HP have partnered to bring you leading edge technology and service.
HP Printers from Pitney Bowes
We want to help your business navigate in a changing world. Pitney Bowes and HP have partnered together to make it easier for you to get the solutions you need for your business, from one supplier.
HP printers have the industry's strongest security, with four key technologies that are always on guard, continually detecting and stopping threats while adapting to new ones.
Call 08444 992 992 for your free print evaluation.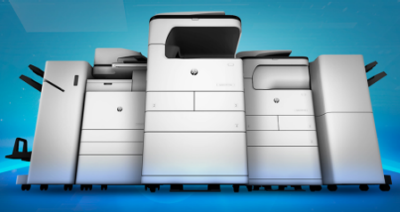 Cost Control
Color printing is within every business's budget with HP PageWide Technology.
The savings are implementation dependent, but simply monitoring printing will normally yield a 10% - 20% savings over an unmanaged print environment.
Secure Printing
HP Inc. is positioned as a Leader in the 2019-2020 IDC MarketScape for print and document security solutions and services worldwide.
Defend your network with the world's most secure printing. Only HP print security offers real-time detection, automated monitoring, and built-in software validation to help stop threats the moment they start.
Sustainability
Our ground-breaking solutions help customers achieve both business and environmental goals.
Offer eco-conscious customers the industry's most energy-efficient business printer in its class.
Use up to 84% less energy than other printers with the industry's most energy-efficient business printing technology in its class.
Generate up to 94% less supplies and packaging waste.
Increased productivity and efficiency & Smart printing 
Workpath apps offer a variety of capabilities for streamlined digitisation workflows and securing confidential information—while creating an intuitive user experience.
By greatly reducing the number of workflow steps and offering a single sign-on, Workpath apps can save time and money.