Three solutions to challenges you're facing right now
As businesses settle in to a 'new normal' with many employees still working remotely, adjustments are being made to minimise the impact on clients.  For many organisations, new tools and technology are helping them maintain business continuity and enabling their core functions to continue.
We've been working closely with our clients to help them overcome challenges, to show them just how much they can do remotely.  Here are some of the challenges they're facing in trying to maintain a degree of 'business as usual', and how we're helping them overcome those challenges.
Challenge 1: At this time of year we need to send a lot of printed statements and notices to our clients. How can we do this when our sending technology is located in the office and our employees are working remotely?
Physical mail is authentic and credible in our digital world. 70% of consumers say that mail makes them feel more valued by a brand than email, and many like the tangibility and longevity of printed documents received in the post. One study found that 70% of respondents felt it was easier to manage their expenses and finances if they were printed on paper.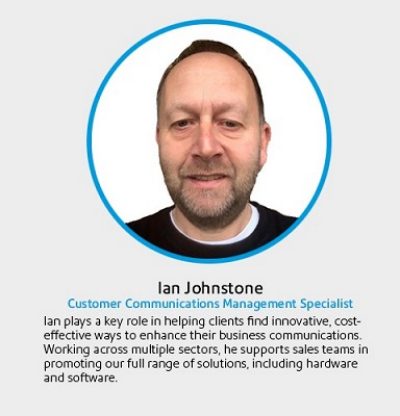 Some industries are bound by regulations and must send notices by mail at certain points in the year.  If your business sends high volumes of printed material and usually relies on office-based technology to do this, you'll be looking for alternative ways to maintain continuity and minimise disruption to your customers. We've been speaking to organisations facing exactly this issue, to help them overcome this challenge and find a new way of working. For many of them, the solution lies in an accurate and cost-effective print-on-demand service known as Hybrid Mail.
Utilising the secure Hybrid Mail solution, organisations continue to send business-critical documents from their remote workplace. They simply submit documents via their usual print driver.  We add 2D barcodes for tracking, to ensure the items go to the correct recipients and to drive GDPR compliance.  We print, insert and mail the documents, and send the documents with Royal Mail.  Users can then log into a secure website to check on their documents' progress, and export reports, daily, weekly or monthly.

Challenge 2: I need to protect my cashflow, I'm not sure what revenues will look like at the end of the year but I need new technology to help me complete core functions. How can I solve this without making major investments?
Just as you sign up to subscription-based services at home such as Netflix and Peloton, you can subscribe to certain business solutions. The same advantages apply: a fast, simple sign-up process and a recurring monthly cost, so you know upfront exactly what you're paying. When you no longer need it, you cancel.
Enterprise subscription-based services are ideal if – like many organisations at the moment – you're finding it hard to forecast revenue and commit expenditure. There are cloud-based subscription services to help you manage everything from payroll and HR to managing printed mail. Some of our clients, for example, are using Hybrid Mail Lite, which is scalable, quick to deploy and has a monthly subscription, to make life a bit easier for businesses during this uncertain time. Hybrid Mail Lite is ideal for organisations that send lower volumes of mail – around 1000 mail pieces a month. A monthly subscription charge replaces a set up cost, and businesses only need to commit for three months.
Challenge 3: I pop into our office occasionally, although all our employees are still working remotely. I'm met by lots of mail waiting to be sent to employees. How can I get it to them?
Many businesses share the same challenge. While certain documents can wait, many documents – particularly for HR, financial and legal teams – are time-critical.  Delays result in inefficiencies and even financial penalties. There is a solution: if you need to distribute mail and other printed documents to remote employees, Agile Scanning will solve the problem.  The solution, consisting of a scanner and supporting software, directly address concerns from our clients regarding business continuity during the pandemic.
Agile Scanning requires just one person at a location to operate a table-top scanner – which can take up to 50 documents at a time. It will digitally scan and sort documents and divert them to Pitney Bowes' secure production print and mail facilities. Pitney Bowes will fulfil the mailing, and documents are sent to the correct recipient, eliminating the need for someone to open, scan and email the documents individually, or write a redirection address on each envelope. The solution is much faster and more energy efficient than using a scanning solution on a Multi-Function Printer, and once the file is digitised it can be sent to a Document Management System such as SharePoint or ECM Systems & Secure FTP, to support internal workflows.