What is the best shipping label printer?
There's a ton of shipping label printers on the market. Check out our buying guide for a comparison list of the best thermal printers to print mailing and shipping labels.
If you're passionate about office supplies, or just very organized, a label maker is likely on your wish list. There are countless options out there, from digital labelers that connect to your PC and print with thermal technology to the old manual labelers with the alpha-numeric wheel and trigger (yep, they still make those).
But if you're passionate about your small business, you're probably looking for a thermal label printer with specific capabilities, like the ability to print barcodes for carrier-approved postage and shipping labels. This guide to the best label printer is for you.
Table of contents
What can I do with a shipping label printer?
What can't you do with a label printer? There are labelers for crafters and hobbyists with a range of built-in fonts, styles, symbols and icons for their projects. Labelers for teachers that allow them to print name tags, label supplies and organize files. Rugged rubber-coated labelers for electricians that print chemical heat and UV-resistant labels on the job site. And labelers designed for small business that print official shipping labels help them save money and mail and ship like pros.
5 tips for choosing the best label printer for my business
When you're looking for the best shipping label printer capable of keeping up with your business' shipping and mailing needs, there are a few criteria to consider:
1. Set a cost-effective budget
Beginning with a price point can help narrow down your choices. Being cost-effective is crucial, but there's a difference between smart shopping and cheaping out. High-volume shippers must think about the long-term expenses, such as the cost per label. But even for smaller businesses that print less labels, printer quality matters. A cheap one might break down on you earlier than expected, and those few dollars saved by ignoring more reliable models will suddenly evaporate.
2. Find the best label maker that's compatible with your computer
Your printer should fit seamlessly into your shipping network. Get one that connects with your computer so you can easily access and print your customer addresses, as well as the postal-specific codes carriers need to route mail and packages. The more steps you can automate, the less time wasted manually entering contact information or correcting mistakes.
Depending on how you plan shipments, phone and mobile device compatibility could come into play as well. The number of devices you can connect to a printer may matter if multiple employees are going to be tasked with printing labels. Handheld label printers might be useful if you or your employees need a small label printer that works on-the-go. Pay close attention to requirement specs to ensure a printer will mesh well with your system.
3. Check the label maker's barcode/postal capabilities
Low-quality barcodes can cause delays or lost items that harm the customer experience and your bottom line. Ensure your printer will create labels optimized for digital scanners. Look for a label maker machine that specifically calls out its capability to print postal barcodes and 4x6-inch labels. Label printers that only print the spools of thin tape won't do the trick.
4. Choose a user-friendly printer
Everyone can't be a tech wiz. And even if you are, how much time do you really want to spend mastering the ins and outs of your label printer? For the most effective shipping label printing choose something easy to use.
Identify what's going to make high-quality printing as effortless as possible. A foolproof solution that works right out of the box may be best – especially if employees with varying levels of tech savvy will be using it. There are options that include default templates and/or companion software that take out the guesswork. Focus on the models that align with your teams' technology acumen so you avoid printing mistakes that set your business back.
5. Decide if you need a thermal label printer
While more of an upfront investment, thermal label printers are built-for-purpose. It does one job – printing labels – and it does it well. Features like built-in label-roll cutters and feeds designed for rolls of 4x6-inch shipping labels enable thermal label printers to create sleek, professional-looking labels fast.
The more labels you print, the more time you'll save going thermal. Plus, unlike inkjet or laser printers, thermal printers use heat technology and special paper to produce labels. You don't have to worry about replacing ink and toner cartridges. Those advantages can really pay off when you hit higher shipping volumes.
Maximize your label printing savings
To access discounted postal rates, you'll also want to consider shipping software or an online shipping service. This is command central for a small business label printer. It not only helps you create your carrier-compliant shipping labels; it lets you compare shipping rates across carriers, track deliveries, view past shipments and complete a variety of other mailing and shipping-related tasks.
Best shipping label printers for small business
While not exhaustive, this list features some of the best label printers for small business. Each choice has been well-reviewed and recommended often by users with small business needs.
PitneyShip™ Cube shipping label printer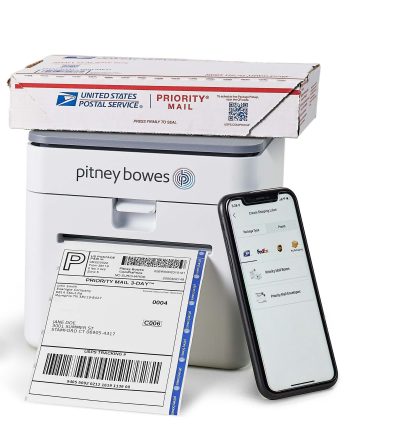 Many printers can create labels. PitneyShip™ Cube is a do-it-all device designed for businesses. With a built-in scale and companion mobile app, you can weigh, print, ship, and track from your phone or computer. The thermal label printer can print labels at 300 dpi on any 4x6-inch thermal label roll. It's not just labels, either. The Cube can print USPS stamps with ease, cutting back on trips to the post office.
The time saved can make a huge difference. There's potential for real cost savings, too. Combined with PitneyShip software, businesses can access the most affordable carrier rates and exclusive discounts.
Rollo Wireless Printer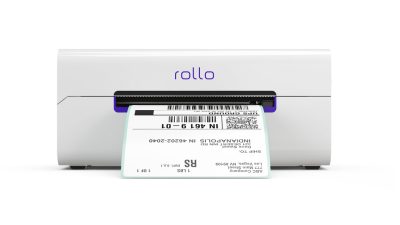 The Rollo Wireless printer is a solid printing option that's able to print up to 150 mm/s at a resolution of 203 dpi. One of its biggest advantages is compatibility with label rolls from other carriers. RolloPrint boasts that its wireless model can print on direct thermal labels from ULine, UPS, and others. Ideal for creating 4x6-inch labels, the Rollo can create labels fit for Amazon, Esty, eBay, Shopify, and other ecommerce platforms.
DYMO LabelWriter 450 Turbo Label Printer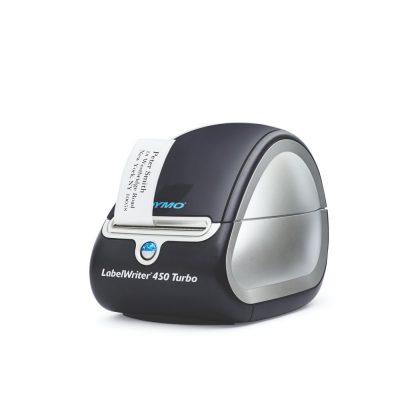 A thermal label printer that you can often find for less than $100, the DYMO LabelWriter thermal printer is compact and capable of printing up to 71 labels per minute. This PC and Mac-compatible label printer comes with everything you need to start printing postal-approved shipping labels at home, including a roll of 4x6-inch adhesive address labels and power/USB cables.
Brother QL-700 High-speed, Professional Label Printer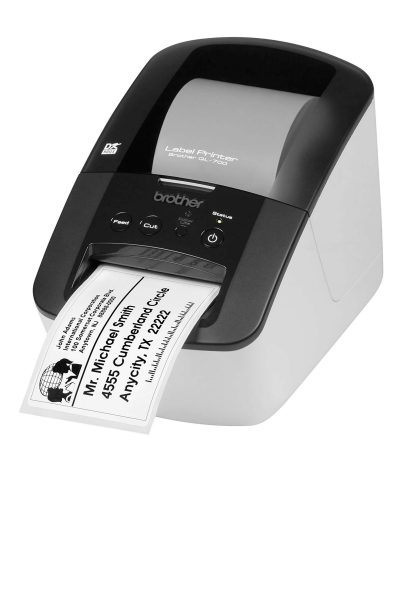 Available at a slightly higher price point that the DYMO LabelWriter, the Brother QL-700 prints up to 93 labels per minute. It lets you print basic labels without any software, as well as bar codes with the included P-touch Editor software. Users report some difficulty installing the software, but rave about the printer's results. And at this price-point, you don't need to ship a lot to see a return on investment.
Datamax E-4204 Thermal Shipping Label Printer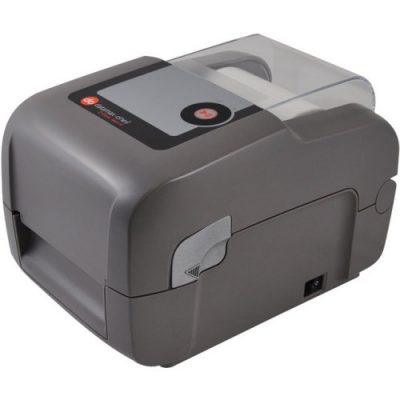 The Datamax E-4204 Thermal Shipping Label Printer is your entry-level introduction into the world of professional thermal printers with a print resolution of 203 DPI, a print speed of five inches per second and 16MB SDRAM memory onboard and 4MB Flash. This system quickly and easily produces USPS approved 4x6 labels with all the information you need to deliver and track your packages.
Comparison: How do the best shipping label printers stack up?
 
PitneyShip Cube

Rollo
DYMO
Brother
Datamax
Built-in scale
Yes
Integrated 15 lb scale
x
Scale must be purchased separately
x
Scale must be purchased separately
x
Scale must be purchased separately
x
Scale must be purchased separately
Stores labels within printer
Yes
x
Yes
Yes
Yes
Ability to print shipping labels and postage
Yes
x
Yes
Yes
Yes
Print resolution
300 dpi
203 dpi
300 x 600 dpi

300 x 600 dpi
203 dpi
Auto-cuts labels (no tearing)
Yes
x
Yes
Yes
Yes
Thermal label printers and shipping software: the unbeatable duo
No matter how much you're shipping, a streamlined process is ideal. That's what makes a thermal label printer and next-generation shipping software an unbeatable combo. Pairing any of the "best label printers" with the right multi-carrier shipping software can turn your operation into a cost-effective shipping station.
How the PitneyShip™ Cube makes shipping easy
Skip the post office. Weigh, print, ship, and track your packages from your phone or computer.

Eliminate the guesswork. A built-in scale and mobile app capture package weight and dimensions with precision.
Avoid traditional printer hassles. Say goodbye to ink cartridges, paper jams, and the other drawbacks of using inkjet or laser printers as your shipping label printer.
Using PitneyShip™ Cube with PitneyShip® software can change the game for your business. The built-in scale and mobile app lets you capture accurate dimensions right in your home or office. When you're choosing a shipping service, you'll gain access to exclusive discounts and a rate comparison tool so you're always saving on carrier-compliant shipping labels for USPS®, UPS® and FedEx®.
Printing labels may not seem like a major factor in your revenue streams. But convenience and reliability can go a long way in minimizing costs and surpassing customer expectations.