UPDATED: October 6, 2018
Follow these steps when you get a new or replacement meter, and need to deactivate and return your old meter to Pitney Bowes:
Plan your meter return and replacement with Pitney Bowes. If you need to finalize the details, contact us at 844-256-6444; choose Account Support, then say "Cancel" to bypass the menu options. 
Receive your return kit. Everything you need to return your meter, including UPS shipping label and packing instructions, is included in the box your replacement device arrives in.
Ship your original meter back to Pitney Bowes.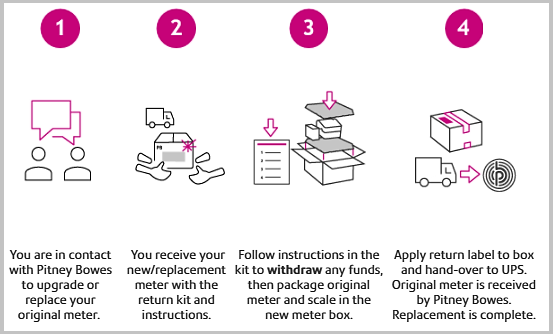 Prepare to Return: Deactivate, Withdraw Funds & Pack your Meter
Follow instructions in the kit to withdraw any remaining funds. You must transfer all postage funds back to your original funding source(s) to deactivate your meter.*
Download instructions and follow the steps to deactivate and pack to return your original meter:

 Tips for easy returns:
Prepaid UPS shipping label is included with your return kit.
Drop off the meter at a UPS Store, or return it as part of a regularly scheduled UPS pickup. Note: If you call UPS to schedule a special pickup for the meter, UPS will assess a charge that Pitney Bowes will not cover.
Print a summary accounting report from your original meter, if you use this optional feature. Your new meter cannot get existing accounts or account totals from your previous meter.
*Inoperable Meters
If your meter is inoperable and you are unable to withdraw or transfer your funds back to their original funding source, you may not be able to deactivate your meter. You can pack and ship non-functioning equipment back to Pitney Bowes as-is using your return kit. Funds from the inoperable meter will be withdrawn at our facility and credited to your account.



Install your New Meter
Follow the installation instructions included in your new meter box. Or, download a copy of your instructions: Installing your meter.
Professional Installation: If you purchased the professional installation option, Pitney Bowes will contact you to set up an appointment to install your new meter.