How to Guide: Send Royal Mail Signed For and Special Delivery Guaranteed letters via SendPro Online
Royal Mail announcement for changes for Signed For & Special Delivery Services
Royal Mail have removed the use of coloured adhesive labels for Special Delivery Guarantee® and Royal Mail Signed For® products. The last date to use these labels was on 31st October 2022.
Since 1st November 2022 clients are now required to print barcodes alongside franking indicia. Due to meter decertification, non-Mailmark® franking machines/meters are no longer supported.
Due to the changes applicable to Signed For & Special Delivery service, Royal Mail requires usage data to be uploaded more frequently than the previous monthly periods. Since 1st July 2022, data uploads are prompted at 5pm on the days reflected in the table below.
Data upload dates every month
6th
13th
20th
26th
Last day of the month
The period for upload will reduce from 5 days to 1 day, due to the frequency of the uploads.
New solutions for our Mailmark clients
Royal Mail are developing solutions for our mailmark clients, we will notify you via email when solutions are available by model, but you will be required to use one of the following solution options:
1. Franking machine/meter new indica
The latest meters indicia will be larger in width and include an S10 1D barcode, additional product name information and new alpha-numeric content within the visual service indicator boxes. Illustrations, not to scale.

Future Meter Indicia
2. Secure Print new Indicia (SendPro® Online)

The new indicia will be as per the Meter Machine New Indicia above. Illustrations, not to scale.

Future Secure Print Indicia
3. Shipping labels via franking machine/meter API (SendPro® Online)

This is available today for parcels, the labels offered will now include letter and large letter formats. This label will be made available with access to Pitney Bowes SendPro® Online. The system will produce a fully addressed shipping label for you to apply to your mail item. Illustrations not to scale.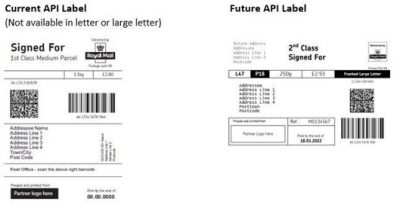 FAQs
Why can't I use the sticky labels as before?
Royal Mail is removing the use of coloured adhesive labels used for Special Delivery Guaranteed® and Royal Mail Signed For® products as part of its modernisation programme.
Which ink colour can I use?
The indicia should be printed in black ink. Blue ink is also accepted.

How do I get the barcodes?
Your barcodes will be issued to you by your meter manufacturer and printed by the franking machine when selecting Special Delivery Guaranteed or Royal Mail Signed For products.
Do I need to log my Special Delivery and Signed For in my dispatch book?
The recording of Special Delivery Guaranteed or Royal Mail Signed For items within dispatch books is not mandatory.
Is there any change to my collection process?
If items are collected, a Collection List does not need to be signed. Dispatch receipts are not mandatory.
Is there any change in pricing from the previous meter indices?
The pricing for all mail items is set annually by Royal Mail. Any changes would be as a result of an overall postage change.
Where should I locate my company's logo?
Any company branding may be applied to any part of the mail item providing it does not interfere with Royal Mail's ability to process the item. The areas on letter mail where Royal Mail applies its codemarks should be avoided where possible.
What size label do I need to use when using Secure Print?
Please contact you meter supplier to understand the options available.
What are the dimensions of the new indicia?
When selecting Special Delivery Guaranteed or Royal Mail Signed For on your meter, the print length will automatically set to the correct length. This may mean your company logo or return address may not print with these services.
When will I have to stop using the old-style labels?
The deadline for using the current adhesive labels is midnight 31/10/2022
Will I still be able to track items on the Royal Mail website and get proof of delivery?
Will I still be able to access items sent before the changeover, and for how long?
What happens if I use an old style label after the changeover date?
After the deadline of 31/10/2022 has passed non-compliant mail items risk being surcharged by Royal Mail.
What do I do with any old-style labels rolls I have left after the changeover date?
Please dispose of them securely.
How will I inform Royal Mail of the items I am sending?
Each week a file will be sent from the manufacturers to Royal Mail confirming the barcodes used by each die number (the franking machine/meter's licence number).