Curbside pickup is having a moment
So why do 1 in 4 consumers feel like they're being put to work?
As the pandemic grinds on, curbside pickup has emerged as a COVID-secure way for consumers to receive their online purchases. For store-first retailers, it's a category-defining opportunity to turn underutilized resources—store locations, labor and inventory—into assets that get products into customers' hands faster and at lower cost.
According to data from Adobe Analytics, curbside pickup at retail stores had increased 208% by the beginning of May. Target reported its curbside sales grew more than 700 percent in the last quarter. Walmart, Best Buy, Dick's Sporting Goods, TJ Maxx, Kohl's and more have seen the benefits of curbside pickup and are pivoting investments towards making the process more efficient and seamless.
It's seemingly a win-win—one that appears to be giving 2019's omnichannel evangelists some pandemic-weary vindication. It's a win-win, that is, unless you are a pure-play online retailer, a DTC brand…or a consumer seeking convenience more than speed.
Curbside pickup makes 1 in 4 consumers feel like they're being put to work
According to our latest BOXpoll survey of consumer sentiment, 1 in 4 consumers feel like they're being put to work when they use curbside pickup. For these shoppers, a lot of the convenience of digital is being negated: once you press 'buy', you still have to get in your car (or catch a ride), negotiate traffic, load up, and get back home.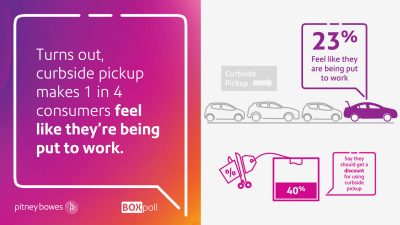 In fact, it turns out that curbside may be overstaying its welcome for other consumers. According to our survey:
28% of consumers feel the cost and hassle of traveling to pickup locations is adding up.
19% feel like they spend too much time waiting on curbside transactions.
35% live more than 15 minutes from the most common (non-grocery) pickup locations.
40% (including about half of Millennials) believe they should be given a discount for choosing curbside pickup.
67% of consumers feel home delivery is more convenient than curbside
While convenience is often equated with choice, in the 'battle of the curbs' between home delivery and contactless pickup, a clear majority (67%) of consumers see home delivery as the most convenient option.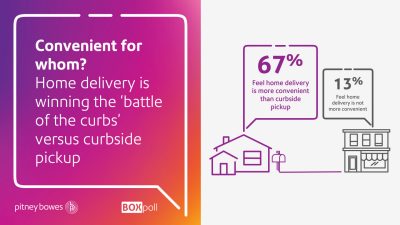 BOXpollTM by Pitney Bowes, a weekly consumer survey on current events, culture,and ecommerce logistics. Conducted by Pitney Bowes with Morning Consult //2094 US consumers surveyed October 2020.© Copyright 2020 Pitney Bowes Inc.