7 ecommerce returns challenges and how to solve them
Learn how tackling the challenges of ecommerce return scan optimize reverse logistics and enhance the customer experience.
80% of consumers rank returns as highly important to their overall order experience.
When done thoughtfully, a flexible ecommerce returns policy keeps customers happy and loyal. Learn how tackling the challenges of ecommerce returns—from tracking issues to fraud—can optimize reverse logistics and enhance the customer experience.
1. Tracking ecommerce returns
If your ecommerce call center is besieged by customers looking for their refund, chances are your returns tracking process is wanting. Customers cite this lack of communication as a leading pain point in the post-purchase experience. Failing to robustly track ecommerce returns doesn't just impact the customer experience, it's a drain on operation's time and labor.
Solution: Use trackable return labels
Tracking ecommerce returns with trackable return labels like the Pitney Bowes Label Technology seen below reduces demands on call centers and streamlines reverse logistics. Alerts notify your facility the moment a carrier scans a return, and the package is linked to the original order before it arrives. This heightened visibility allows your operations teams to know what's heading their way and plan for docking and labor needs. And crucially, it helps you determine when to issue a refund.
 Equally important, trackable return labels feature automated tracking notices that keep customers up to date on the status of their returns and refunds.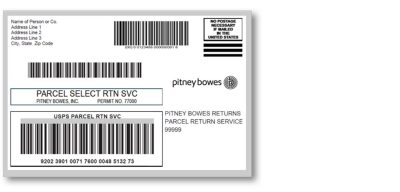 2. Recovering ecommerce inventory
When it comes to recovering ecommerce returns and issuing refunds, perception is everything. It's entirely possible your customer's "delayed" refund includes the four days that package spent in the customer's trunk before it was dropped off at your designated location. 
Solution: Reduce trunk time
In addition to tracking ecommerce returns with smart return labels, you can reduce "trunk time" by offering customers free home pick-ups along with your current drop-off options. You can use the USPS scheduling page to arrange for free pick-ups during the customer's existing mail route.
 Shrinking the time allowed to return an item can motivate customers to act faster and might even reduce the number of returns you receive overall. But stay mindful the impact a stricter return policy might have on the post-purchase experience.
3. Returns-to-inventory timeline
What happens after an item is returned can be a major obstacle for ecommerce retailers. Operations, who are closest to the process, consider the lead time between receiving a return and restocking it as one of their biggest challenges.
Solution: Prioritize returns by value
Consider processing your returns by prioritizing big-ticket items. There's no reason to let profitable merchandise like jewelry languish in returns just because that pair of novelty boxers hit receiving first. You can also streamline the returns process by only opening parcels for specific categories based on weight verification or other factors such as loyalty status.
4. Time to credit
How much importance do customers place on speedy refunds? A surprising number would be willing to pay a fee to get their refund instantly. 
The solution: Set expectations
Time to credit is a primary value lever for customers, yet many ecommerce retailers fail to even mention it in their return policies. If that's true in your case, set expectations early by including time to credit in your return policy. In addition, with the right return label technology and verification process in place, you can issue refunds with confidence as early as the first scan touchpoint.
Other ways you can use time to credit to enhance your customer experience include offering faster refunds for high-loyalty customers or refunding high-priced items sooner to ensure those customers are made whole faster.
5. The high cost of returns
Customers love generous return policies. But returns put a strain on ecommerce resources—from customer service to warehousing to accounting. Plus, it's up to your business to bear the cost of recouping whatever value you can from that return.
The solution: Modernize your supply chain
Traditional supply chains are not optimized for ecommerce or the growing rise of returns. New supply chain technologies can remedy that by helping you track merchandise, issue refunds and simplify the management of returned inventory.
 You can also enlist an experienced logistics partner who can help you develop a return strategy that helps you recapture revenue and meet customer expectations.
6. Friction in the customer experience 
A recent poll found that 80% of consumers rank returns as highly important to their overall order experience. Yet 78% percent rated their most recent return experience as inconvenient. This is a discrepancy in the post-purchase experience every ecommerce retailer should address.
The solution: Post-purchase transformation
When is a return not a return? When it's a value proposition. How do you transform returns into a value prop? Let us list the ways:
Ensure your return policy is prominently displayed on your website or intuitive to find.
Offer free and easy at home pickup of returns and include a hassle-free prepaid return label with every delivery, along with an option to print one.
Include a QR code for printer-less returns—customers simply take the return to a drop-off location that can scan the code and create a label.
Keep the communications flowing, from notifying customers a return was accepted to notifying them when they'll receive credit for it.
Reinforce your brand every step of the way, including your tracking portal, return labels, shipping materials and confirmation emails.
7. Ecommerce return fraud
Wardrobing, bracketing, product swapping: as return rates rise, so do the cases of ecommerce return fraud. What's an ecommerce retailer to do short of intentionally introducing friction into the return process to thwart potential fraudsters?
The solution: Lessen the temptation
You don't have to sacrifice the customer loyalty a flexible return policy engenders. Strike a balance instead. Reduce the temptation for customers to abuse your return policy by condensing the return window or spicing up exchanges with store credits or discounts.
 If you're tackling serious fraud committed by actual scammers versus true customers there's software available that can analyze patterns of fraudulent behavior and alert you if it detects any red flags.
Consider third-party returns services
Many of the tracking and logistics challenges discussed here can be addressed by a third-party returns services provider. If you are struggling to keep up with your returns processing, particularly around holiday peaks, consider outside support.