The road rules of ecommerce refund and return policies
Learn what makes for a good ecommerce return policy and refine your own policy with these strategies and samples.
It's a small amount of website copy with serious implications. Your ecommerce refund, return, and exchange policy can win over new customers, secure existing ones, impact your bottom line and seal your brand's reputation.
Learn what makes for a good ecommerce return policy and refine your own policy with these strategies and samples.
Your ecommerce return policy: the brand promise that's legally binding
There's no explicit law requiring that your ecommerce site include a refund and return policy, but US federal law does require businesses to refund or exchange defective products. Specific state laws may have even more to say about return and refund timeframes and parameters.
Posting your return policy may not be mandatory, but you better believe your customers will search for yours prior to making a purchase, and what you say in your policy can have a big impact. According to a Pitney Bowes survey, 54% of consumers say they are unlikely to purchase a product they want if the return policy is poor or unclear. That's more than half of your purchases potentially walking away because your return policy was lacking!
Customers might be more interested in the experience an ecommerce return/refund policy provides, but once posted it is both brand defining and legally binding. It pays to make yours as accessible, clear and customer focused as possible.
Make policies easy to find
You should include links or summaries of your return policy in the places experienced online shoppers expect to find it:
Homepage drop-down menu
Website footer
Terms and Conditions agreement
FAQs
Final checkout screen
If your ecommerce return policy includes "free shipping on returns" or similar customer-friendly return/refund policies, hook customers immediately by pinning the good news to the header of your website or including it in a scrolling banner. They'll engage with your products with more confidence and it could be just the edge you need over a competitor.
Make policies easy to interpret
You're making a promise that's binding, but that doesn't mean your return policy has to sound like it was written by the legal department. An ecommerce return policy should always reflect a brand's promise and personality.
Consider this snippet from a fast-fashion retailer's return policy. The vibe is friendly, familiar and reflects the laid-back attitude of its product lines:

Whether the tone is sincere, playful or matter of fact, a return policy must be thorough and easy to understand. Some ecommerce sites even post helpful "how to return an item" videos to help ensure the return process is less likely to be misinterpreted.
Ecommerce return policy essentials and samples
Let's start with the nuts and bolts. The elements that nearly every ecommerce return policy should include are:
What items can or cannot be returned/exchanged
How many days a customer has to return/exchange an item
The condition an item must be in to qualify for the return
How the customer will be compensated
Who pays for return shipping costs
How to initiate or proceed with a return or exchange
How long it takes to receive a refund on a return
Ecommerce return policy templates
The internet is awash in return policy templates for ecommerce businesses—in exchange for your contact info. Instead of seeking a complete sample to copy exactly, search the web for inspiration and use the elements listed above as an easy template to create your own policy, preferably infused with your brand's voice.
Ecommerce return policy samples
The retailer's return policy mentioned above not only speaks directly to its devoted customer base, it includes all the pertinent details and keeps it simple and clean with a QA drawer.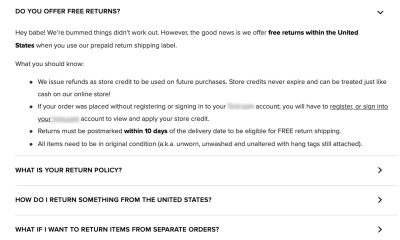 Note how this well-known apparel brand's minimalistic return policy includes a special notice cautioning customers that returns may be delayed and applies a simple, click-through process for initiating a return.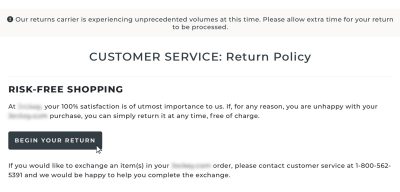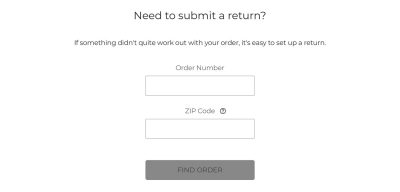 Consider third-party return services
Your returns policy is only as strong as the processes that support it. If you're struggling to keep up with your returns processing, particularly around holiday peaks, consider outside support. Working with a third-party returns services provider helps ensure you can keep all the promises your policy makes.