How to create custom shipping labels?
Creating a custom, carrier-approved shipping label is simple, cost effective and makes you look like a pro in the eyes of your customers and other recipients. Plus, you can add extra touches.
Maybe you've already created branded mail pieces for your small business, like personalized address labels or custom mailing labels. Why stop there? You can create your own carrier-compliant shipping labels, complete with brief messages or instructions for brand impact.
Getting started is easy. PitneyShip walks you through each step of the process and covers all the details.
Who needs a professionally designed shipping and mailing label?
Almost anyone can create and benefit from a professionally designed shipping label: dedicated DIYers, entrepreneurial makers, doting grandparents. … But especially small businesses that do a lot of shipping and mailing.
Why do I need custom shipping labels for my business?
There are numerous business reasons to create custom shipping labels. Here are just a few of the benefits:
Save time and money by avoiding trips to your local carrier.
Look like a pro to your customers by shipping via carrier-approved label.
Ensure the accuracy of your shipping information, including postal addresses.
Is it cheaper to create my own shipping labels?
Creating and printing your own shipping labels with PitneyShip isn't just easier, it's more cost effective than purchasing them at a carrier's store.
Online shipping services partner with the major carriers to deliver "group" shipping rates to their members. PitneyShip, for example, can save you up to 62 percent off select carrier services.
How can I customize my shipping label?
A shipping label contains a lot of information in a very small amount of space, but there are opportunities for customization and branding.
The USPS® label below calls out a few spots that allow you to add a personalized message.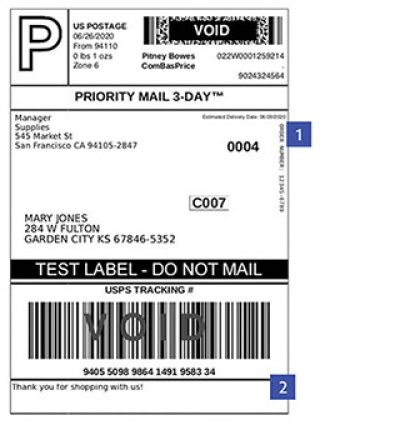 A custom message can go here.
A second custom message can go here.
Can I create and print shipping labels using a carrier's website?
Most of the major carriers, including USPS, UPS® and FedEx® offer free services for creating and printing their shipping labels online.