Is it cheaper to print address labels at home?
If you need to print batches of address labels—or shipping labels, if you're running a business—it's almost certainly less expensive to print them yourself. We'll explore some common options and help you decide what's best for your needs.
What is the cheapest way to print address labels?
Every cost counts when it comes to shipping, down to the labels. Whether you should invest in a shipping label printer depends on your particular needs. If you only need a few labels and don't have a printer, you're better off going to a print shop or using a friend's computer. But the more you ship, the more time and money you can save creating your own labels.
We'll examine everything you need to print address labels from home or in the office. Once you know the ins and outs, you'll be creating crisp and clear labels in no time.
Address labels vs. shipping labels
First, let's clear up our terminology:
Address labels are just what they sound like: labels with your recipient's name and mailing address neatly printed. They're great for one-offs, but don't really cut it for most businesses.
Shipping labels contain all the information that address labels do, so your shipping provider knows where to deliver your parcels, but they also contain your own return shipping address, plus tracking barcodes and other information that makes it much easier for your shipper to get it there efficiently.
In short, address labels are casual, whereas shipping labels mean business.
How do you print your own address labels?
Printing address labels is as easy as getting sheets of stickers in your preferred size, running the address label utility in your favorite word processor, and connecting to your address data source.
Printing shipping labels from home or in the office generally requires postal software like PitneyShip—the barcodes alone make the assistance essential, but there are plenty of other benefits like lower commercial postage rates. Businesses can leverage the PitneyShip™ Cube shipping label printer to make printing a breeze, and printing labels is only the start.
How the PitneyShip Cube makes shipping easy
Skip the post office. Weigh, print, ship, and track your packages from your phone or computer.
Eliminate the guesswork. A built-in scale and mobile app capture package weight and dimensions with precision.
Avoid traditional printer hassles. Say goodbye to ink cartridges, paper jams, and the other drawbacks of using inkjet or laser printers as your shipping label printer.
It's all about convenience and reliability. You'll have more time to put towards growing your business knowing every step in the shipping process—especially label printing—is taken care of.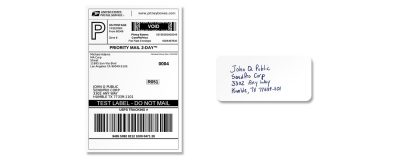 Can I print just one label at a time?
This isn't a problem for either shipping labels or address labels—though if you're using label sheets, you do have to be careful to instruct the software you're using to print to the correct space on the sheet, especially if you've already used that particular sheet before. Don't worry if you forget—it may waste a tiny bit of toner or ink, but it shouldn't affect the rest of the sheet, so you can get it right the next time.
How can I print return address labels?
If you're printing regular address labels, it makes sense to print out sheets of return address labels so you can attach both at the same time. It's a little easier than printing  a batch of address labels, because you don't have to connect to a data source for each individual label. Just enter your return address info once and you're good to go.
If you're printing USPS shipping labels, it's even easier, because your return address info is already included.
Businesses may want to include prepaid return labels to help customers return items as needed. This can be a very smart business decision, as it helps you control costs and makes it easier on your customers so they're that much more likely to buy from you again. PitneyShip makes it very easy to print prepaid return labels to include with your parcels.
Can I print rolls of shipping labels?
Printing on rolls rather than sheets is a great deal for most businesses. There's an upfront cost to purchase a thermal printer dedicated to shipping labels, but it's cheaper in the long run as you save money on printer maintenance and supplies. You'll also probably see fewer undeliverable parcels, as thermal labels are more durable and weather-resistant than those printed on sticker sheets.
How can you make sure that your addresses fit on your printed labels?
If you're not using a shipping software solution, look for templates in your word processing program or online. Microsoft Word, for example, has label templates you can use under the "Mailings" tab. In Google Docs, you can search for add-ons for making labels under the "Extensions" tab.
When you print address labels from home, one way to ensure a perfect is using software designed for printing labels. Using PitneyShip® to create your labels is simple, quick, and always on the mark.