Volunteering heats up at Pitney Bowes this summer
Pitney Bowes colleagues have a long tradition of volunteering with great enthusiasm.
Pitney Bowes colleagues have a long tradition of volunteering with great enthusiasm. Several Connecticut-area teams came together over the past few weeks to make a meaningful difference by supporting nonprofit partners with a mission to provide resources and programs to ensure that all students have equal opportunity to reach their full potential.
Through outdoor beautification and cleanups and meal- and snack-packing efforts, our colleagues dedicated their time and talent while sharing their passion for supporting the development of young people in our communities.
HR colleagues were all hands on deck for SoundWaters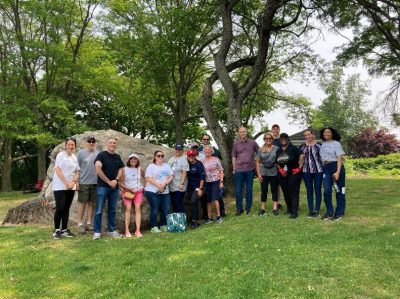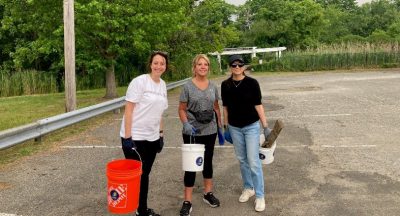 Colleagues from the human resources department recently kicked off their Summer by enjoying some unplugged time together while helping SoundWaters, an environmental education nonprofit in our home office community of Stamford CT which we have partnered with since the organization was founded in 1989.
The cleanup took place at SoundWaters' new Harbor Center, a research and educational facility that will enable generations of students to interact directly with the Long Island, learning about this essential waterway, its environmental significance and the need to protect it. . It's exciting to see how SoundWaters revitalized the Boccuzzi Park on Stamford Harbor in partnership with the City of Stamford by transforming it with purpose and environmental sustainability.
After the cleanup, colleagues learned about how SoundWaters educates every public-school student in Stamford, their workforce development  program for young adults, and the coolness of kelp farming.
Marketing Intelligence colleagues help nurture Connecticut students with Filling in the Blanks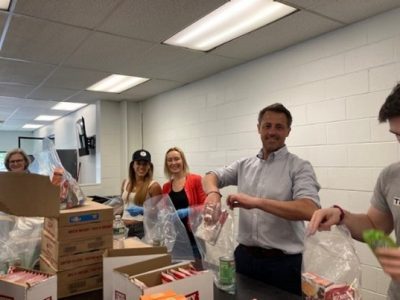 Marketing Intelligence colleagues came together at the Filling in the Blanks warehouse in Norwalk, Connecticut, to pack more than 500 meals and snacks for students throughout Connecticut.
Filling in the Blanks was founded by mothers and community activists Shawnee Knight and Tina Kramer, who created the nonprofit in 2013 as a way to marry their love of community, children, food and charity. The organization now serves over 100 sites throughout Fairfield and Westchester Counties and has delivered more than TWO MILLION weekend meals to children from low-income households. 99% of the food is purchased thanks to funding provided by generous donors. Volunteers pack the food into nutritious weekend meal kits that are delivered each week to more than 5,000 children.
Treasury colleagues flex their gardening skills in support healthy food access at Fairgate Farms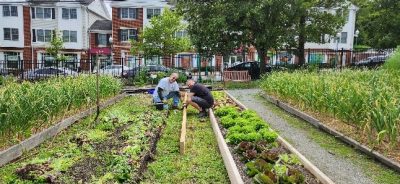 Treasury colleagues came together in Stamford, Connecticut's West Side neighborhood to support
Fairgate Farm and their mission to increase access to locally grown produce and to strengthen the community by celebrating healthy food through gardening, educational and harvest-related initiatives.
Our volunteers weeded existing garden beds and built and prepped a new bed for the Farm, which provides volunteer and educational opportunities to individuals, schools, companies, and community organizations to connect residents with their local food system, promote environmental stewardship, and build community cohesion.
The team enjoyed the fresh air, hands-on activities and, most particularly, working together in a fun, creative way  for a very good cause.