Returns fraud on my mind
Consumers open up about which kinds of returns fraud are socially acceptable
We've been talking a lot about returns lately, from our inaugural Returnament series pitting different methods against each other, to the tactics on online retailers' wish lists. One area we can't ignore? Fraud.
According to data from National Retail Federation, for every $100 in returned merchandise accepted in 2021, U.S. retailers lost $10.30 to returns fraud. Overall, 10.6 percent of all online purchase returns last year were fraudulent – in other words, $23.2 billion of the $218 billion in online returns.
This week on BOXpoll, we wanted to get inside shoppers' heads and see what exactly they find acceptable. We presented respondents with different types of returns fraud—as well as other behaviors that hurt retailers' bottom lines but don't quite count as fraud—and asked how acceptable they thought the average consumer found each behavior. (In our experience, Joe Q. Driveway is much more honest about judging other people's attitudes and behavior than his own.)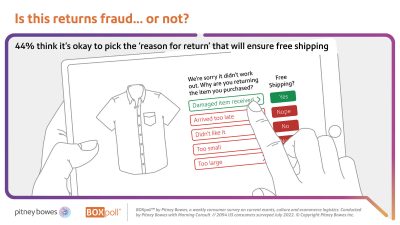 Key takeaways: 
While costly but not-quite-fraudulent habits—like bracketing and making purchases with lax returns policies in mind—are much more acceptable overall than true fraud, the results show that the line between using convenient returns to inspire loyalty and opening the door to customers milking said policies is growing thinner and thinner.
The "most acceptable" form of true fraud is the selecting "reason for return" that will ensure free shipping during an RMA process, with a gob-smacking 44% saying the average consumer would be okay with it. Our reaction? Disappointed but not surprised, given how consistently consumers tell us they loathe paying for shipping. 
Taking advantage of returnless refund/replacement policies comes next on the public acceptability rating. 

One-third of consumers (33%) say buying products because a retailer will give a full refund without return (debatably not fraud, depending on the details) is okay. 
Shockingly, almost as many (31%) call reporting an item as damaged to get a free replacement (AKA, a DIY BOGO, and definitely fraud) acceptable. It's a tough pill for retailers to swallow, as more brands adopt a "just keep it" policy for lower-value items amid battles with excess inventory. 

A surprisingly large number—21%—say it's okay to report an order as missing/not delivered (!!) to get a refund and keep said item. 
Who are these hamburglars, anyway?
Key takeaways:
While GenX and suburbanites tend to set the average for what's acceptable, Millennials, GenZ, and city-dwellers are more lax with the rules, while Baby Boomers and rural residents seem to have the steadfast moral compasses of hall monitors.
Consumers with household incomes over 100k are also more fast-and-loose with the rules than average, a finding consistent with Narvar's reporting that 72% of shoppers who bend return rules are financially comfortable. This group is especially okay with bracketing. No surprise, given they can front the money to buy several product sizes/variations; they're shopping online more often than others and less sensitive to returns friction; and they're more likely to be using circular economy services like Rent the Runway, which can influence what their views on returns.
We know from listening to our clients that online merchants often view these behaviors on a continuum of fraud/expensive behavior. Ultimately, the best returns strategy tends to be a product-dependent tradeoff of cost and convenience.

BOXpoll™ by Pitney Bowes, a weekly consumer survey on current events, culture, and ecommerce logistics. Conducted by Pitney Bowes with Morning Consult //2094 US consumers surveyed July 2022.© Copyright Pitney Bowes Inc.