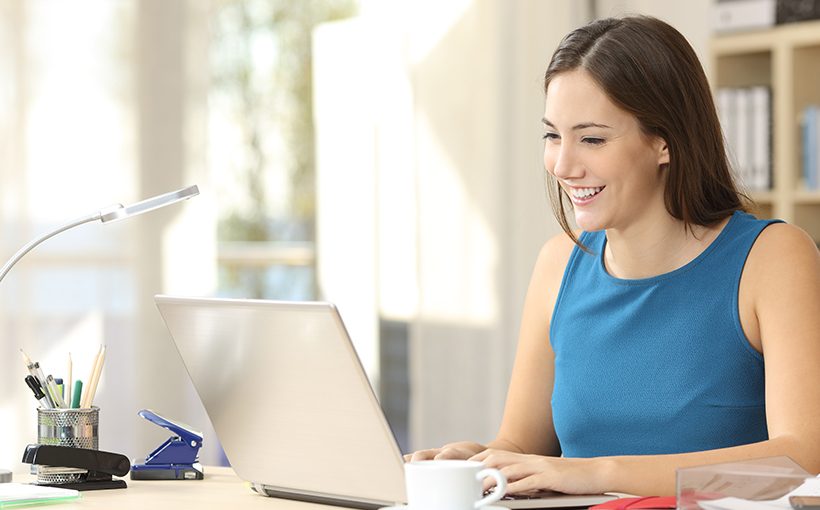 TrackMyMail®
Keep track of in-home delivery.
Knowing the status of your mail on-route to its destination or when it was delivered can be critical to the success of your business. Companies depend on the timely delivery of their outbound mail statements, invoices, notifications and event driven marketing mail.
TrackMyMail provides an on-line hosted solution to track mail for outbound delivery, inbound remittance payments and updating and reporting of Undeliverable-As-Addressed (UAA) mail.  Mailstream performance is displayed in maps, charts and statistical reports giving you an overview of delivery status at the summary level and through detailed data at the recipient level.
Request more information
Log in to TrackMyMail
Why TrackMyMail?
Mailstream visibility
Measure delivery performance, meet compliance requirements & coordinate multi-channel marketing efforts.
Remittance payment
Monitor responses, improve donor communications and more accurately anticipate cash flow.
Address management
Receive electronic ACS updates for new addresses & reasons for undeliverable as addressed pieces as mail is being processed for delivery.
On-line reporting
Get real-time mail piece scan data at summary & recipient levels.
Frequently Asked Questions
Getting Started
What is the Intelligent Mail® barcode and how does that enable mail tracking?
The Intelligent Mail® barcode is USPS® barcode technology used to sort and track letters, flats and periodicals.
PrecisionTrack™ uses the power of the Intelligent Mail® barcode and the USPS Informed Visibility Program to track every piece of mail to its unique destination, even when there are multiple recipients at a single address. Every piece in a mailing will have its own unique tracking number, a "license plate" that identifies it.
How do I create a PrecisionTrack™ Account?
Log onto www.trackmymail.com and click "Open a Trackmymail Account". Complete the online registration and create a new user ID and password.
How do I create a PrecisionTrack™ Job?
Manage assignment
Encode
Print
PrecisionTrack™ provides you with a variety of options for working with the IMb, depending on what level of detail you want and how much of the process you want to do yourself. Step by step information about how to create a job can be found in the TrackMyMail User Guide. For FTP and other Pitney Bowes job creation options, please contact Customer Service for assistance at (888) 444-9972.
At what point does the USPS® scan mail?
Mail is scanned at various points as it travels through the mail stream. TrackMyMail analyzes this scan data and creates reporting that includes in-process scans as well as projected in-home delivery dates.
Does each mail piece have a unique IMb™?
TrackMyMail will assign a unique 9-digit tracking ID (also referred to as the Serial Number) for each mailpiece. We will also provide the correct Service Type Identifier (STID) and a TrackMyMail Mailer ID (MID) as part of the IMb™.
Will every piece of mail with an Intelligent Mail® barcode (IMb™) be scanned?
While scan rates of 100% are unlikely, letter size mail consistently scans at around 90% or better, while flat size mail performs at an average of 70%. Please note that flat scans often vary, depending upon the way they are sorted and delivered to postal facilities. If you are drop shipping flats, contact TMMCustomerService@pb.com or your Sales Representative to consult about your mailing.
What is Stop-The-Clock?
Stop-the-Clock is a type of USPS® Operation Code. Operation codes indicate the specific sort operations being performed by the USPS®. When a mail piece is processed with a stop-the-clock code before the USPS published clearance time. It is likely that it will be delivered the same day. TrackMyMail utilizes Stop-the-Clock codes as part of the algorithm to determine the projected in-home date for a mail piece.
How do I create the IMb™?
There are several options in creating an IMb™. If TrackMyMail has assigned your IMb™, we will provide the components of the barcode (i.e. the STID, the MID, the range of tracking ID's) or we can build each IMb™ for you. The file will contain both the numeric version (up to 31 digits) and the 65 character letter string. Because the IMb™ is not human readable, we recommend a printed sample be sent to TMMCustomerService@pb.com.
If your software or addressing system has an IMb™ encoder installed, the numeric version provided can be used to create the barcode. If you need direction in creating your IMb™s, please contact TrackMyMail Customer Service at any time for assistance at (888) 444-9972, Option 1 or email us at TMMCustomerService@pb.com
Do I need to provide a file to create my TrackMyMail Job?
Yes. If you are using your MID and assigning the IMb's, the file will use the requirements provided in our Job Creation document. If you are creating a job online, a Mailing Detail file is required in order to create your PrecisionTrack job™ and to enhance the reporting available.
Do I need to track every mail piece in my PrecisionTrack™ job or can I sample a portion of the job?
Sampling is available if you create your own IMb's for the non-tracked portion of your mailing. Be aware that when you choose to sample you lose the redirected mail and UpdatePro™ capabilities for all untracked pieces. Sampling is not recommended.
Types and Classes of Mail Tracked
What types and classes of mail can I track?
First-Class Mail®, Standard Mail® and Periodicals are classes of mail that can be tracked. Automation compatible letters and flats are types of mail that can be tracked through the USPS Mail Tracking Services for intelligent mail. TrackMyMail does not track parcels.
Can I track non-automated mail?
Yes. Even a single piece of mail can be tracked with Informed Visibility
Can I track Bound Printed Matter using TrackMyMail?
Yes. Contact TMMCustomerService@pbcom for more information.
Reports and Data Available
How current is the tracking data displayed on TrackMyMail?
The Postal Service™ transmits updated tracking results to TrackMyMail electronically on a continuous hourly schedule.
How long will my mail be tracked?
A First Class mailing will generally produce results for 14 days from the mail date provided. A Standard Class Mailing will produce results for 29 days from the mail date you provide when the order is placed. All scan data is posted. Detailed USPS® scan data is kept for 90 days. ACS record level detail reporting is only available for 45 days from the mail date. Uploaded mailing detail data is also only kept for 90 days.
How long can I view the results?
Scheduled or On-Demand reports are available for 30 days. The USPS® data download and single piece look up function is available up to 90 days from your mail date. After 90 days single piece look up, single piece reports, and the USPS® raw data download is unavailable. Job summary reports by in-home date, State, SCF and all other online views are available for two years. Inbound Only jobs - scans are posted for 90 days. ACS record level detail reporting is only available for 90 days from the mail date. Contact us at (888) 444-9972 Option 2 to speak with Customer Service about other options if you need to retain job summary data for a longer time period.
What types of reports are available?
TrackMyMail offers a variety of reporting options for both inbound and outbound mail. Contact us at (888) 444-9972 Option 2 to view and discuss how the available reports can benefit your organization.
What are daily scan notifications?
"You've Got Scans" is a daily email notification that will let you know which of your jobs are receiving final scans. Email notifications are sent daily after all of our scan updates have been processed. This report will show last scans in addition to cumulative scans for all active jobs selected for the current day.
"You've Got Scans" notifications are only sent for individual jobs when the notification option has been selected during the job create process. Similar daily scan reports include the Critical Jobs report and the Late Mail report.
What do I do if The Map of Results isn't color coded and I am unable to view percentages by State, etc.?
The map colors and percentages by state represent the percent of pieces with scan activity compared to the mail quantity for the state. For calculations and colors to display, a Mailing Detail file is required to be uploaded to TrackMyMail.
What is the Redirected Mail report?
Redirected mail are mail pieces that the Postal Service™ has forwarded or returned to sender. The new address and the reason the piece could not be delivered as address is ONLY available through USPS Address Change service (Update Pro).
UpdatePro™ - Address Change Services
What is ACS® and how does it work?
Trackmail uses the USPS Single Source service. ACS® is a way for customers using the Intelligent Mail barcode® to receive automated address corrections. The type of address correction desired is encoded in the Service Type ID (STID) of the IMb™. As the mail is being processed by the USPS® and an updated address is identified, pieces that include ACS™ instructions are forwarded, returned or destroyed (depending upon the STID used) and an electronic record with the new address is sent to the ACS™ subscriber. Secure Destruction is also available through Single Source ACS. Please contact customer service at 888-444-9972 for more information.
What are the differences between the available ACS™ options with TrackMyMail™?
Please refer to the following link from our Resources page-- Address Correction Service (Options and Endorsements): https://www.trackmymail.com/4st/publicresources/acs_resources.pdf. Note: Placing an endorsement on the mail piece not specified in the instructions provided by Trackmymail may result in unexpected results including additional charges.
Full Service
What is required to do a full service mailing?
There are several additional USPS® requirements in order to submit a full service mailing. For complete details on these requirements can be found on the USPS® POSTALPRO website.
Is it okay to use the Trackmymail Mailer ID in my IMb™ barcodes?
Yes. The MID on the mailpiece may be that of any of the stakeholders in the mailing. Unless you have made arrangements with Trackmymail to use your own Mailer ID on the mailpiece, the MID in the IMb on the mailpiece should be the one that we have assigned. The USPS® Mailer ID on the mailpiece may belong to a third party (like Trackmymail). You can find details on how Mailer IDs are used and assigned in the USPS® Technical Resource Guide here: https://postalpro.usps.com/storages/2017-08/221_USPSIMB-Tech-Resource-Guide.pdf.
Trackmymail's CRID or MID's should never be referenced as the mail owner or mail preparer in the By/For of the edoc. This error could result in new postage assessments, a situation that we want to help mailers avoid.
How is IMb™ uniqueness managed for Full Service?
To meet the requirements for Full Service, the IMb™'s uniqueness is determined by a combination of the MID and the tracking ID (Serial Number) within a mail class. The 15-digit MID/Serial Number combination must not be repeated in mailings of the same mail class within 45 calendar days of the mailing date. Mailpiece uniqueness is not enforced across mail classes, meaning a piece of First-Class Mail® and a piece of Standard Mail® could carry the same 15-digit MID/Serial Number combination within the 45-day uniqueness period. However, two pieces of First-Class Mail® must not have the same 15-digit MID/Serial Number combination if the pieces are to qualify for the Full Service option. It is important to utilize the values assigned by TrackMyMail for each IMb™ in order to comply with this requirement for uniqueness.
Barcode Basics
How many digits are in the IMB™, and what do they mean?
The IMb contains 31 digits, although it may have as few as 20. This is okay – the encoder will always turn it into 65 bars.
The elements of the IMB™ are:
Barcode Identifier

Position1-2: Except for flats using an optional endorsement line, these first two digits are typically "00". Please refer to: https://postalpro.usps.com/node/221

Service Type Identifier

Position 3-5: Indicates the type of mailing (i.e. Full Service or Basic, with or without , instructions for ACS™, etc.)

Mailer ID (also referred to as MID)

Six digit MID

Position 6-11: The MID is an assigned identification number from the USPS® (example "000874")

Nine digit MID

Position 6-14

Serial Number or Tracking ID

With six digit MID

Position12-20: This is the unique mailpiece identifier.

With nine digit MID

Position 15-20

POSTNET™/Routing code

Position 21-31: An IMb™ can be created with 0, 5, 9, or 11 digits in the routing code. A minimum of 5 is recommended. Please keep in mind that delivery point requirements for USPS® automation standards still apply.
How can I check to be sure I've printed my IMb™ correctly?
There are a number of quality apps available for your smart phone that have IMb scanning functionality. We strongly encourage you to submit a PDF sample with your initial IMb™ to TMMCustomerService@pb.com.
Can I Use my own Mailer ID?
You may use your six or nine digit Mailer ID (nine digit MID's are limited to FTP file creation only). Please contact customer service at 888-444-9972 or at tmmcustomerservice@pb.com so that we can provide you with a MID delegation form. Once signed, this will authorize the USPS to send your tracking results to Trackmymail.
Please contact tmmcustomerservice@pb.com for information about using your own MID.
How can I check to be sure I've printed my IMb™ correctly?
We recommend that mailers purchase a hand scanner for quality assurance purposes. There are a number of models that will read the barcode. There are also a number of quality apps available for your smart phone that have IMb scanning functionality. We strongly encourage you to submit a PDF sample with your initial IMb™ to TMMCustomerService@pb.com.
Can I Use my own Mailer ID?
Yes, if you are submitting Full Service mailings and have a six digit Mailer ID (MID), you may register with TrackMyMail and assign IMb™s using your own MID and serial numbers. A TrackMyMail Mailer ID registration form is required. Account/User permissions will be provided by TrackMyMail enabling the selection of Full Service. TrackMyMail Customer Service will enter the registered MID in the PrecisionTrack™ system. Additional requirements are necessary if you will be requesting ACS™. Please contact tmmcustomerservice@pb.com for information about using your own MID.
How does TrackMyMail determine the in-home date of the mail piece?
The Estimated In-Home projection is based on:
The type of mail
The time and date of the scan by the Postal Service™
The type of scan (Operation Code)
As mail travels through the Postal Service™, Intelligent Mail® barcoded pieces are assigned an Operations Code that relates to the different levels of sort operations performed. These operations codes are provided to TrackMyMail as part of the USPS scan tracking data we receive at the mail piece level. To determine an estimated in-home date, our system applies an algorithm to the scan data that identifies Stop-the-Clock operation codes, and considers the time and date of the scan as well as the type of mail.
How do I submit sample mail pieces for approval?
TrackMyMail will be glad to provide a test scan on sample intelligent mail barcodes. We accept scanned images sent to TMMCustomerService@pb.com. When submitting samples, it is critical that you provide:
The Job ID and Job Title
Contact information so that we can call or email you with results
In checking your samples we will use a scanner to scan your barcode for readability only and will provide the resulting barcode number components to you. If you provide all of your Intelligent Mail® barcode values or your Job ID in the email sent to Customer Service we will also verify that the printed values are also the assigned values.
Note: We cannot assure that other characteristics such as background reflectance and barcode placement will be in compliance with USPS® regulations. A successful scan indicates that the Intelligent Mail® barcode can be read by our scanners. TrackMyMail does not assume responsibility for barcode issues which occur in production, or those that might impact scan results. Our goal in scanning a sample barcode is to be certain that the correct process has been followed in order to print the assigned TrackMyMail barcode values. Other barcode quality issues should be confirmed with your Mailpiece Design Analyst.
I've tracked my mailing and I'm unhappy with the delivery time, and/or it appears that some pieces have not been delivered. What recourse do I have?
While the Postal Service™ does have service standards it tries to meet, they do not guarantee delivery within any particular timeframe. If you are unhappy with the delivery time, contact customer service at your local Post Office™, or have your mailing service provider make contact for you. Most TrackMyMail reports can also be printed to provide information on delivery patterns that can be helpful if there is a problem.