8 common challenges of cross-border ecommerce
Before your business starts taking those international orders there's eight cross-border e-commerce challenges you should be aware of and prepare for as you define your cross-border strategy.
The world is your new customer base
Technology and logistics providers have made ecommerce manageable, scalable and profitable for entrepreneurs and big brands alike. Now, they're removing the barriers and resolving the challenges of cross-border trade.
There's no denying cross-border ecommerce is a major growth strategy and opportunity. But it has its challenges. From language barriers to logistics to calculating landed costs, cross-border trade comes with its own set of rules, vocabulary and best practices you should familiarize yourself with before entering a new global market.
Here are eight common cross-border challenges you should be aware of and the solutions you can consider for your international ecommerce strategy. 
1. The language, currency and cultural divide 
Your home market is booming and you've identified a promising new cross-border opportunity. The challenge? Your product is poised to do well, but your potential consumers speak a different language and deal in a different currency. Plus, there are cultural differences you might not even be aware of. 
Solution: Localized experiences
A good cross-border strategy begins with the consumer journey, one that involves greeting and serving consumers in a localized fashion, from language to currency to culture.
A standalone site with plugin translation software addresses the language barrier, but machine translations are often inaccurate and might result in your website copy missing key language nuances or even being unintelligible. Plus, you still have currency to consider. You can also upload your items to a local marketplace and let that distributor localize your brand and products for you. This latter solution is a great way to test the market and enjoy some sales, but is it enough?
A successful cross-border ecommerce strategy ultimately requires a localized global website customized with copy, images, product selection and a shopping cart specific to each region's language, currency and culture.
The right combination of technology and logistics providers can help you localize the experience and build the appropriate "international checkout" solution. A partner familiar with each of these of international ecommerce components can help ensure the entire consumer experience is seamless and culturally appropriate.
2. Marketing to a market you don't fully understand 
Different global markets have different paths to success. How do you generate interest? Where should you focus your marketing spend?  What products do you promote? Which consumers do you target?
Solution: Think global, market local
Just like your website and currency, your marketing efforts need to be localized too. For each new market you need to reevaluate multiple marketing components, from the translation of a tagline to the relevancy of your seasonal promotions. Your cross-border ecommerce strategy must consider consumer drivers like climate, regional holidays and events, cultural attitudes, political sensitivities and more.
Tactically, checking out your competition's strategy is a critical place to start. What products are they promoting? Which channels are they using? How are they positioning themselves? 
Other tactics include partnering with your existing agencies and providers to leverage cross-border relationships. You should also utilize inbound tools to collect email addresses and visitor details and invest the time in creating audience segments and conducting A/B testing.  
And remember, social media is practically borderless. Promoting your business on Facebook and Instagram could really help to draw in and convert new consumers.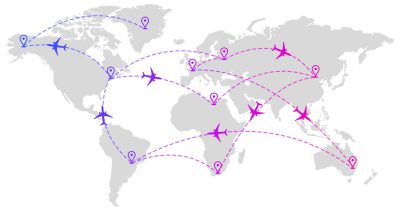 3. Logistics, logistics, logistics
Ensuring that your products arrive in-country and to your customers is foundational to the success of any cross-border ecommerce strategy. Tracking orders can be more challenging due to multiple carrier handoffs. And preferences for cash on delivery in some markets complicates things further. Logistics and shipping should be a cross-border challenge that is solved for from day one.
Solution: Software, partners, expertise
You have two options when it comes to international logistics: cross-border or localized. Cross-border is similar to how you ship and fulfill locally, only with more paperwork. Localized shipping and fulfillment require that you stock inventory within any regions included in your cross-border strategy. Logistics is one area where localization may not be practical.
Technology simplifies the challenge of cross-border logistics with multi-carrier software platforms that allow you to scale operations. With the right logistics partner in place, you can ship to a local hub just like you do for domestic orders, and your partner prepares the package for export, becomes the exporter of record and assumes risks.
The right partner can also help you identify the ideal mix of service levels and International Commercial Terms (incoterms) to minimize cart abandonment. Those incoterms should include Delivered Duty Paid (DDP). Covering the costs of the duties and taxes associated with shipping your product creates a clean, simple, superior experience for consumers that encourages them to come back for more. 
4. Pricing complexity: guaranteed landed cost
Before you can offer DDP, you'll need to understand your guaranteed landing cost. This is the total price of your product after all currency conversions, shipping costs, customs, taxes, and other related fees have been factored. The cross-border challenge here lies in knowing what those costs are—and recouping them.
Solution: Strive for transparent pricing
No consumer wants to be surprised by unexpected fees—especially ecommerce-savvy consumers. Ensure the price of your product includes duties, taxes, shipping, handling and any other costs.
Duty and tax-quoting technology can calculate your total landed cost based on the product and destination country. A partner that offers product classification services can also help you determine what duty rate applies—some even have their own customs brokers who can process the total landing payment for you as a service included in the price of your shipping label. Transparent, full landed cost is the number one thing global shoppers look for when buying online—without it, you could be leaving sales on the table.
5. Paperwork complexity: compliance, regulations and taxes
Taxes, licenses, customs, invoices, manifests: international ecommerce involves legal paperwork as well as strategy. Unless you're a student of global shipping regulations, it's difficult to understand, much less abide by, individual requirements for each region. 
Solution: Lean on the expertise of others
Before even beginning the legally required documentation, you first need to check if your new market allows the import of your product. Food, alcohol, apparel, footwear, cosmetics, electronics and more are regulated internationally and sometimes even prohibited. Pay careful attention to invoicing requirements and be sure to calculate any additional duties and taxes.
Again, including a technology and logistics partner in your cross-border e-commerce strategy is the most efficient way to streamline these processes. An excellent partner can automatically flag restricted items, identify and help respond to new regulations, calculate duties and taxes, and comprehensively support your cross-border ecommerce journey and growth.

6. Fraud without borders
Fraudsters search for weaknesses to exploit, and budding cross-border ecommerce providers are just the mark they're looking for. International cyber criminals have sophisticated and automated tools at their disposal, from credential stuffing to card testing.
Solution: Verification without borders
The best cross-border ecommerce strategy for defeating fraud should be one you already have in place: data collection. Collecting consumer data like name, age, IP and email addresses, and billing and shipping addresses helps you and your fraud software identify atypical shopping patterns and disparate transactions.
It's important to note that your Address Verification Service (AVS) may not help identify international fraudsters. Postal code formats vary worldwide and not all regional banks implement AVS. That means many legitimate, paying consumers might get swept up in its net and declined along with fraudsters.  
The best defense is a combination of customer behavior analysis and proven checkout processes, and technology that verifies the identity of legitimate consumers. Look for an ecommerce solution that offers robust cross-border features out of the box that can scale as you grow.  
7. The cost of doing cross-border business
Gross margins look different internationally, so a tactful pricing strategy is key to account for the costs of shipping and selling to a new market. There are different strategies merchants should consider.
Solution: Only engage where it's profitable
Don't have a team of experts on standby to research the best international markets for your newest product? Working with a partner that can help you understand where your products are in highest demand and how to be successful can be key to success here.  No two regions are alike—and only a handful could make up 90% of your international business. A good partner will help you focus your efforts where it pays the most.
8. RETURNS!
The bane of local ecommerce crosses every border. Returns are a fact of ecommerce life and they only grow more complex when you factor in the duty and tax implications of international markets. 
Solution: Give consumers what they want
Consumers around the world read return policies—and yours can be make or break you both locally and internationally.
The simplest solution in some cases is to simply send a replacement and write off the loss. Of course, this is only practical if the value of the item is less than the shipping cost. Work with a carrier who understands international returns and can help you build a program. You can also consider software that automates the process and allows consumers to print return labels.
Solve all 8 challenges with one partner
Pitney Bowes can help you solve the challenges of cross-border ecommerce through our diverse set of solutions, offering everything from full end-to-end services to delivery and quoting, all with the same level of superior customer service and support you expect from us.  With decades of global shipping experience, we deliver expertise, insights and operational capabilities across the globe.
Our team of cross-border experts will work with you to identify the lowest-effort, highest-yield opportunities as you begin your cross-border journey and grow your newly global business.