Get the facts: ePacket delivery from China
Learn more about the intended tracking, shipping time and cost of ePackets and the ways that recent events have impacted the benefits of ePacket delivery.
What it is ePacket shipping and delivery from China?
The USPS first introduced ePacket shipping and delivery in 2011 as a new service that allows lightweight packages from Hong Kong and mainland China to receive USPS® First-Class Mail® shipping and tracking services. Since its introduction, ePacket has grown to include over 40 regions.
How it works
ePacket delivery involves the cooperation of two different regions—in this case, China and the US—as well as various carriers. A manufacturer in China ships an order through a local carrier who passes it off to an international carrier, who then ships it the to the US. This is all made possible by air travel. ePacket deliveries take advantage of the extra cargo space on passenger flights to quickly ship products to other ePacket-participating countries.
On its arrival to the US, the USPS picks up the package and delivers it to the consumer. As the carrier of ePackets, USPS has set the following size and weight package requirements:
Maximum length: no more than 24 inches (60 cm)
Total length/height/ thickness: no more than 36 inches (90 cm)
Weight: no more than 4.4 pounds (2 kg)
Value: no more than $400
How it's being used
ePacket has been embraced by existing international ecommerce retailers and helped inspire countless entrepreneurs to enter the global ecommerce space. The most common scenarios that ePacket supports include:
Ecommerce: ePacket allows ecommerce companies to source affordable inventory from China and Hong Kong-based manufacturers and offer consumers the fast and reliable shipping they expect.
Drop shipping: The fact that there's no warehouse or product line needed to start selling, using a drop-ship partner in China has fueled a new ecommerce class: the dedicated drop shipper who solely focuses on marketing and selling products from China.
Market research: Research teams and strategists use ePacket to explore and test new markets. Drop-shipping allows them to introduce a new product prior to fully committing to manufacturing or stocking the item.
The current state of ePacket shipping and delivery
Prior to 2020, ePacket was a game changer for many due to its speed, economy and reliability. That changed dramatically as regions around the world closed their borders and limited transit. ePackets are shipped via passenger air and the imposed travel bans extended the wait for getting deliveries on a flight. During this time, the cost of ePacket delivery rose as well. Some major suppliers, including many on AliExpress, even stopped offering ePacket as a shipping option.
ePacket shipping and delivery times
Back in the day, it might have taken a product shipped from China up to eight weeks to arrive by sea. ePacket delivery shaved that time down to less than 30 days, and often within 7-10 business days.
The disruptions that occurred with international shipping during 2020 negatively impacted all shipping and delivery services, and ePacket delivery times were no exception. During the worst of the slowdown, ePacket deliveries took an average of 20 to 40 days, however, those shipping times are beginning to return to normal as air travel picks up.
ePacket tracking from China to the US and beyond
Ecommerce consumers want to track their orders, regardless of where they're coming from. In the past, tracking orders from suppliers in China could be prohibitively complicated for retailers to implement and consumers to access. One of the primary benefits offered by ePacket is no-cost, reliable access to end-to-end tracking details.
As part of the ePacket delivery process, China Post tracks the package until it's delivered to the US, where the USPS takes over tracking duty through its website and ensures its delivery.
This ability to reliably track orders from the manufacturer to the consumer was a game changer for both global ecommerce retailers and their customers. Savvy ecommerce consumers recognize the tracking benefits of ePacket shipping immediately and those new to it appreciate the peace of mind end-to-end tracking provides. Retailers appreciate the dramatic reduction in calls they receive from consumers wondering when their package will arrive, and consumers also appreciate that they don't need to make those calls anymore.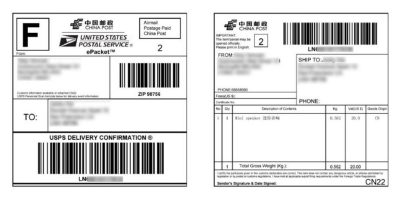 ePacket costs
This is where the current state of ePacket delivery from China gets complicated. Once touted as the most economical way to quickly ship product from China and other ePacket regions, both China and the US have made changes to the original ePacket agreement that have impacted cost.
One of the downsides of ePacket is that the cost benefits favor shipments leaving China. That's fine if you're a drop shipper sourcing product from China to resell, but it doesn't help the mom-and-pop shop who wants to send their made-in-the-USA products to consumers in China. To help ecommerce businesses in the US compete against their counterparts in China, the US lobbied for and won the right to set its own terminal rates. In addition, China has responded to cost increases in the international air transport market by adjusting their transport charges. As a result, you can expect to see higher ePacket rates being phased in over the coming years.
Despite these ePacket rate increases, the service still offers competitive pricing, along with a related benefit: streamlining customs. ePacket allows ecommerce retailers to limit the paperwork involved with customs, while also letting consumers pick up the tab for any related duties and taxes.
The future of ePacket shipping and delivery
Rate increases and delivery delays are threatening the continued viability of ePacket. North American ecommerce retailers who compete against sellers shipping directly from China would be happy to see it go. Dedicated drop shippers would find its discontinuation a blow to their entire business.
Before making the leap into ePacket shipping, you'll want to verify if your suppliers still support it. Better yet, talk to an expert and learn about all your global ecommerce shipping and fulfillment options.