No post on Sundays
When it comes to quoted delivery times, do consumers think in calendar days or business days? Turns out… neither.
This month on BOXpoll, we wanted to get more insight into how consumers think about delivery days. Specifically, weekend delivery days.
BOXpoll surveys from earlier this year found that given a choice of estimated delivery date formats at checkout, consumers most prefer a number of days (ex: "3 days") over a date ("August 29") or a range of days or dates. But that begs the question… what counts as a day? How are consumers factoring Saturday and Sunday into their expectations—and are retailers setting themselves up for failure at checkout? 
Closed on Sunday, you're my Chick-Fil-A
We were surprised that 41% of consumers say Sunday delivery is important, given that most carriers don't offer it and in fact, some are rolling back it back in some markets.
Here's how opinions break down by demographic:  

Sunday split:
Sunday delivery's biggest fans include 53% of urban residents and 56% of Millennials. We know from past surveys that both of these groups carry faster speed expectations than the average consumer.
On the other hand, 60% of rural residents, who are likely accustomed to not getting Sunday deliveries, given the higher cost of last-mile delivery, and 71% of Baby Boomers agree that it isn't a priority. 
But when asked a different way, we found that more than three-quarters of consumers don't expect Sunday delivery, suggesting the 41% who say it's important are being more aspirational than realistic. We presented consumers with a hypothetical Friday online purchase promising 3-day shipping and asked when they would expect it to arrive. 
Here's what we found: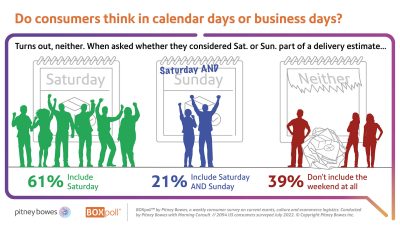 Saturday split:
79% of consumers expect the delivery on either Tuesday or Wednesday, meaning they're not counting Sunday as a delivery day. However, the 61% who expect Monday or Tuesday delivery are counting Saturday. It's an important dynamic for retailers to keep in mind as they set expectations at checkout. 
Only 1 in 5 consumers (21%) are expecting their hypothetical package to show up on Monday—i.e., counting both Saturday and Sunday as delivery days. (Cue Lady Grantham's "What is a weekend?") We're not surprised that this group is helmed by one-quarter of Millennials, given their aforementioned need for speed. The upside for retailers: Millennials are also the most willing to pay for faster shipping.

Speed expectations have barely changed
When you look at speed expectations, consumers have not gotten any more impatient in the last few months. The average definition of fast (excluding groceries and other perishables) moved from 4.2 days to 4.1 days between March and August. 

In conclusion…
Taken together with responses to our hypothetical 3-day shipping scenario and the largely unchanged definition of fast, we see the 41% of online shoppers who call Sunday package delivery important as aspirational thinkers, not a groundswell of consumers demanding Sunday service from retailers.

BOXpoll™ by Pitney Bowes, a weekly consumer survey on current events, culture, and ecommerce logistics. Conducted by Pitney Bowes with Morning Consult //2094 US consumers surveyed July 2022.© Copyright Pitney Bowes Inc.