Unlock the value of Mailmark™
Welcome to the home of Mailmark™ at Pitney Bowes. Join our Mailmark™ experts in a guided tour of Royal Mail's latest development. What is it? What does it do? Will it mean savings? We answer all the important Mailmark™ questions.
What is Mailmark?
Mailmark™ is a mail preparation product from Royal Mail. The existing frank mark will be replaced with a new mark that has a 2D barcode, it looks different from the existing one and brings with it new possibilities. The "Delivered By Royal Mail" carrier mark and a new visual identifier that shows the format and class of mail add to this new look. Still have questions? Request a callback >>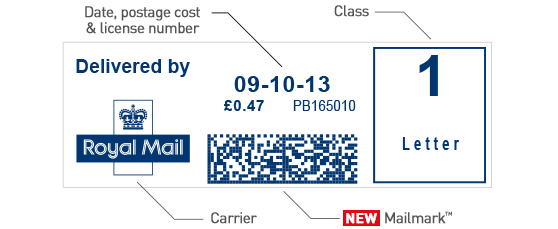 What does it do?
In addition to providing ways of automatically receiving information onto your franking machine, Mailmark™ allows you to access services in a more efficient way. Barcodes are incorporated in the mark giving you more useful data, which becomes valuable to both Royal Mail and you, the customer. Still have questions? Request a callback >>
• Large savings with Pitney Bowes Mailmark™ making your postal budget more effective
• No surcharges! The automated tariff update ensures your mail always carries the correct payment.
• Mailmark-ready machines are network connected for faster downloads, without the need for a costly analogue phone line
How does it help me unlock the value?
There are many ways in which Mailmark™ will add value to your business mail. Visually, there's more room for your company's logo or any other corporate information, plus there are clearer indicators of class, price and carrier. Behind the scenes, data will be fed back to the customer via the Pitney Bowes INVIEW™ portal, and Mailmark™ uses LAN connectivity so it doesn't need an analogue telephone line. Still have questions? Request a callback >>
Read about Mailmark on the PB Talk business blog
Our in-house Royal Mail expert has a vast amount of knowledge and experience on all things Royal Mail related, so who better to explain the Royal Mail's latest barcode phenomenon coming up in the near future.
Still have questions?