Las Vegas Mega Center
Why roll the dice?
Go with a sure thing.


Pitney Bowes is the #1 workshare partner of the USPS®. We want to be your #1 presort partner, too.
"We process 1B+ pieces of mail a year in Vegas alone. We'd love to show you what we can do for your business."
– David Anderson, Pitney Bowes Presort Mail Consultant 

Get this valuable new eGuide.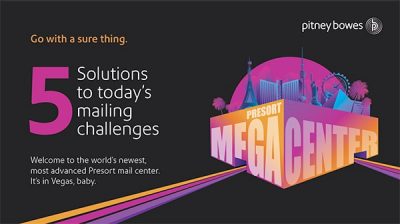 Improve your entire mailing operation. Find out how you can:
Find greater savings in how you mail
Discover discounts in more classes of mail
Automate processing for greater precision and efficiency
Simplify compliance with USPS® requirements
Avoid delivery challenges with resilient processes