Best Companies to Work For 2022
Pitney Bowes Among India's Top 20 Best Companies to Work For 2022
Pitney Bowes has been named one of India's Top 20 Best Companies to Work For 2022 by the Great Place to Work®️ Institute for the 9th time. The announcement was made on June 15th at a ceremony in Mumbai and members of the Pitney Bowes India team were there to receive this prestigious award. Pitney Bowes joins the list once again alongside industry leaders like Cisco, Ford, Salesforce, Accenture, Akamai, DHL, Adobe, and Intuit.
Pitney Bowes ranked #18 in the largest workplace culture study in the country. It is a matter of pride to be consistently recognized for our people-first culture. Pitney Bowes has earned this recognition for creating a Great Place to Work FOR ALL employees and has excelled on the 5 dimensions of building a High-Trust, High-Performance Culture™ – Credibility, Respect, Fairness, Pride, and Camaraderie.
This recognition is another feather in our cap. In 2021, Pitney Bowes India was recognized as Asia's Top 100 Best Employers, India's Top 25 Best Workplaces For 2021, India's Top 50 Best Workplaces for Women by the Great Place to Work®️ Institute and one of India's Top 5 Companies for Diversity by Jobsforher.
Pitney Bowes has been consistently named one of India's best workplaces and always strives to create an inclusive and empowering work environment that allows people to bring their 'whole' authentic selves to work every day.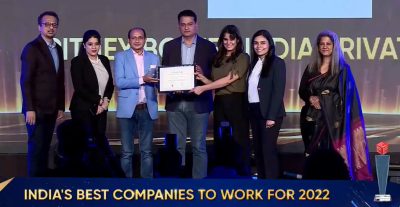 From left to right: Renu Shekhawat; Pankaj Sachdeva; Venkat Rao; Gehna Sawhney and Elizabeth Joseph receive the 2022 award at the Great Place to Work ceremony.