Pitney Bowes Recognized by Great Place to Work® as One of India's Best Workplaces™ for Women 2021
We're immensely proud that Pitney Bowes India has been recognized as one of India's Top 50 Best Workplaces for Women – 2021 by the Great Place to Work® Institute. It is truly a testament to Pitney Bowes longstanding commitment to creating a diverse and inclusive workplace for all.
This has only been possible thanks to the allyship of each and every Pitney Bowes India team member. Earlier this year, Pitney Bowes was also named one of India's Top 25 Best Workplaces® in IT & IT-BPM and a Top 100 Best Workplace in AsiaTM.
"Pitney Bowes genuinely cares about its employees. At Pitney Bowes, women get the flexibility to pursue a balanced work and family life, which is energizing and fulfilling. The policies for new mothers support women in making a smooth transition back to work. I am really proud of the women representation at every level and open work culture. Trainings and mentorship programs, exclusively designed for women, inspire us to grow as women leaders. I can ask questions and have open and honest discussions without judgement. I am also supported in my role to make meaningful contributions and advance my career."
-  Nitu Gupta, Technical Architect, Pitney Bowes  
I'm very proud of Pitney Bowes recognition as one of India's Top 50 Best Workplaces for Women – 2021. Such a feat is a result of continued, ongoing sustainable efforts made by our leaders and the allyship of our people to create a diverse and inclusive environment for all. Over the last 5 and a half years that I've been at Pitney Bowes, I've always found it to be a place that supports and empowers women to bring their best selves to work – by providing opportunities for learning, growth and innovation. Through the last 18 months of the pandemic, Pitney Bowes has been a pillar of strength. Our employee-centric policies and agile culture have made it possible to get through one of the toughest times in our living history. Congratulations to all on this fantastic achievement!

-   Gehna Sawhney, Senior Manager, Pitney Bowes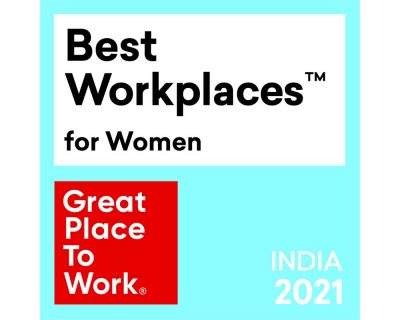 At Pitney Bowes, an equitable workplace is not just a 'requirement', it is core to the way we operate and work and is inherent in our everyday culture. It is all about making conscious, ongoing efforts to promote a sense of belonging and shift mindsets, behaviors, and practices to ensure that each and every employee is treated in a fair, and impartial manner without the influence of factors such as gender, age, caste, background, or sexual orientation.

As a global authority on workplace culture, Great Place to Work® has been studying employee experience and people practices across organizations for over three decades. Every year, more than 10,000 organizations from over 60 countries partner with Great Place to Work® Institute for assessment, benchmarking and planning of actions to strengthen their workplace culture.
In India, the research conducted by Great Place to Work® has focused on the state of trust in workplaces, what drives employee experience, and its impact on the business outcomes. The research reveals that there is a clear and direct relationship between employee engagement and financial performance, and that best workplaces consistently outperform major stock indices in India.
Click here to view the complete list of India's Best Workplaces for Women 2021.
Pitney Bowes India's culture and best practices have been featured on the official Great Place to Work® website here.