The not-so-distant echo of school bells
Amid inflationary pressures, consumers aren't shopping in-store for back-to-school any more than last year
It's that time of year again for many parents in the U.S.: getting the kids back into a reasonable sleep routine, checking off the back-to-school shopping lists, and realizing nobody's been keeping up with the summer math workbooks. While we can't help with the math workbooks (liberal arts degrees all around on team BOXpoll), we've got your back on the state of BTS and ecommerce.

Key takeaways:
18% of all back-to-school shopping is being done online this year—a respectable number, given the formidable competition of brick-and-mortar stores' multi-aisle displays built to be one-stop shops.
More than one-third (36%) of all consumers—and half of GenZers and Millennials— plan to do some of their BTS shopping online. Of those consumers that plan to do at least some of their shopping online, about half of their lists will be checked off virtually, while the other half will be done in-store.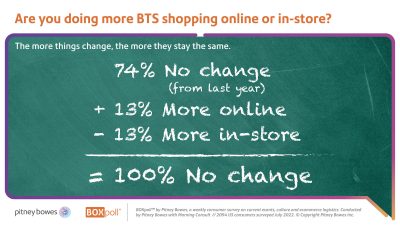 Key takeaways:
During a back-to-school season clouded by tightened spending amid inflationary pressures, we found the silver lining for online retailers: Online shopping doesn't appear to be losing customers to in-store shopping.
Nearly three-quarters (74%) of consumers report no change in channel from last year, while the remaining groups who do say they'll be shopping differently largely cancel each other out. Exceptions include Millennials and consumers with incomes of more than 100k, who give online shopping a 5-6% net gain over last year.

Key takeaways:
While value shopping is still a strong driver for opting online vs. in-store, consumers are divided on which channel is cheaper.
Half of consumers who choose online over in-store cite convenience as their top reason. Because in-store is the decidedly faster option; online convenience is no longer about speed for consumers. Our theory? In 2022, convenience is more about inventory availability, not having to drive to the store, and breadth of options than "gotta have it now."

BOXpoll™ by Pitney Bowes, a weekly consumer survey on current events, culture, and ecommerce logistics. Conducted by Pitney Bowes with Morning Consult //2094 US consumers surveyed July 2022.© Copyright Pitney Bowes Inc.