Reconsidering the need for speed
In the aftermath of pandemic-fueled shipping delays and in anticipation of ecommerce's largest peak ever—we asked consumers, what does "fast" shipping mean anymore?
How we perceive time appears to be changing. Amid continued uncertainty about the state of the pandemic, staying in and working from home seem destined to be fixtures in our lives for the immediate future. This combination of monotony, social isolation and stress have been shown to impact whether we see the passage of time slowing down or speeding up.  
If fast is slow, and slow is fast—what does this mean for how we perceive the speed of delivery? With significant delays in national logistics networks from the past 7 months fresh on consumers' minds—and with unprecedented parcel volumes this peak season threatening on-time holiday deliveries—what does "fast shipping" mean anymore?  
According to the latest findings in BOXpoll—our weekly consumer survey on current events, culture and ecommerce logistics—consumers are becoming used to fast not being quite so fast. More than half of consumers (57%) opting for free shipping consider delivery in 5 days to be "fast" or "acceptable." That's an 8pp increase from last year. And one-third now think 7-day (free) shipping is at minimum "acceptable".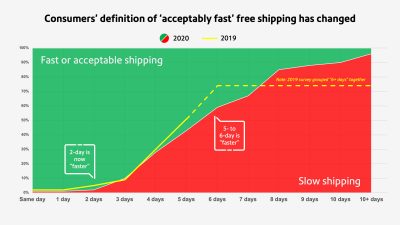 The word patience may be overstating consumer's real sentiments. Resigned or pragmatic might be more appropriate. In a related set of findings, 43% of consumers admit to checking delivery tracking more often now versus before the pandemic. And more than 1 in 3 say tracking packages has become annoying—sharing in their own words the stress and anxiety brought on by uncertain delivery dates, unclear package status, and inaccessible tracking information. 
 "Fast" delivery depends on what you're buying 
Not only has the definition of speed changed overall, consumers are redefining their expectations based on what they're buying—because what they're buying is different now, too. In a time when consumers are planning to stay in, eat and work at home even when the pandemic is over, delivery of groceries and household essentials have taken on a new level of urgency. Consumers' definition of "fast" is about 1 day faster for these products versus others, with the average consumer pegging "fast" at approximately 1.2 days. "Fast" delivery of household supplies averaged at 2 days, while alcohol/CBD/nutraceuticals landed at 2.2 days (note we didn't ask why respondents needed alcohol or CBD faster—no judgment, these are stressful times). Shoppers are more willing to accept a longer wait for their apparel, footwear, fitness, and work/Zoom supplies.
In nearly every product category, consumers reported having lower (i.e., slower) expectations about speed of delivery. All except for, of course, groceries—the only category where consumers report their expectations actually rising.
What's the value of speed?
After seeing these diminished consumer expectations we started to hypothesize that shipping "upgrade" offers (where consumers pay to ship via an expedited delivery service instead of free, standard ground delivery) were less important to consumers. Even with grocery, we'd assumed consumers were now so accustomed to "good enough" delivery estimates that the premium placed on speed would have eroded.
"Not only has the definition of speed changed, consumers are redefining 'fast delivery' based on what they're buying—because what they're buying is different now, too."
Surprisingly, 66% of consumers say they would be willing to pay for fast shipping if they needed the product sooner. And among those, the value of fast (going from "acceptable" 4.6 days to a "fast" 2.3 day SLA if you average across all product categories) is…an eye-opening $11.41. Topping the list are entertainment/fitness ($12.30), personal care/beauty ($12.08) and apparel (as much as $12.00).
Consumers' openness to paying for shipping alone is antithetical to so much conventional wisdom in ecommerce logistics. The amount they're willing to pay is, frankly, astonishing when expedited delivery services are available to ecommerce merchants at lower price points. This creates the specter—at least for the time being—of faster delivery being a driver of profit, instead a drag on profit.

BOXpoll™ by Pitney Bowes, a weekly consumer survey on current events, culture,and ecommerce logistics. Conducted by Pitney Bowes with Morning Consult //2094 US consumers surveyed October 2020.© Copyright 2020 Pitney Bowes Inc.