quip: Brushing Up on Delivering a Quality Subscription Service
How often do you change your toothbrush? If the answer is, "Whenever the dentist gives me a new one," you're not alone. But, that also means you're not changing it often enough; dentists recommend getting a new brush every three months.
The truth is, most of us probably have some kind of subpar oral care habit. We brush too hard, too infrequently or too quickly, we rarely floss, or we even go years without seeing a dentist. Those bad habits are what quip, an oral care subscription service, is on a mission to address.
"We're focused on improving people's oral care," explained Mir Anwar, VP of Operations at quip. "We promote healthy habits with a toothbrush head subscription service, so your bristles are always fresh and your oral care habits are on-point."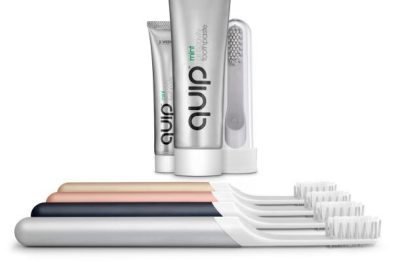 The fact that dentists recommend refreshing your toothbrush every three months makes brushes a natural product for a subscription service, according to Anwar. quip delivers fresh brush head refills to subscribers every three months, making it easier for them to build better brushing habits.
Subscription That Supports Healthy Habits
Here's how it works. New subscribers purchase a starter set, which comes with a plastic handled ($25) or metal handled ($40) vibrating electric toothbrush and travel cover, plus optional toothpaste. Then, when they enroll in the refill plan, they get fresh brush heads delivered every three months for just $5, with no additional shipping charge. With this subscription model, customers always have a new brush head on their doorstep right when they need it, so they don't have to remember to go out and purchase a new one.
The subscription service, along with a back-to-basics approach to brushing, sets quip apart from the rest. The simple, affordable, instructional toothbrush is one of the few American Dental Association (ADA)-approved electric toothbrushes. Working closely with dentists is key to quip's success, according to Anwar. Quip has dentists on staff to guide product development, in an effort to provide the best possible products. Dentists also weigh in on communications strategy, helping educate customers about good preventive care and how to fix bad oral care habits.
"Most brands focus on selling flashy gimmicks, but we're focused on fixing bad habits," Anwar said. "This isn't disruption for the sake of disruption. People think of us as a product and rightfully so, but our mission isn't just the toothbrush product. It's about improving oral care overall."
Handling Fulfillment and Shipping Logistics
Quip's focus on customers' oral health means that the bar is high when it comes to fulfillment and shipping.
"Because it's a dentist-recommended three-month refresh that we need to deliver on, it's always important that we stay in stock," Anwar explained. "We don't have the luxury of being 'out of stock,' since that would impact our customers' oral care habits. So, for us, supply chain and manufacturing are very important."
The good news is, it's fairly straightforward to anticipate the volume that already-subscribed customers will drive. Quip is well-prepared to deliver to subscribers, both in terms of manufacturing products, and fulfilling and shipping those products.
The bigger challenge for quip, as with most startups, comes with predicting how much growth they'll see in the next six-to-12-month period. How can you make smart investments in tooling and manufacturing capacity that far out, when you don't know what future demand will be like? Quip is building data analytics in-house to help drive that strategy and help them stay ahead of the demand curve.
Anwar explained that beyond those challenges, quip is facing questions about how to ship as efficiently and cost-effectively as possible.
"We want this to be as low friction as possible for the customer," he said. "The mission is to improve your oral health care, so we want to make it easy for you to get a recurring brush head shipment every three months. The problem is, how do you ship a product at $5 all-in, and still make a healthy enough margin to sustain the business? We're currently looking into innovative ways of doing that long term."
Because quip is a custom product with a custom design, they have invested pretty heavily in manufacturing capacity and tooling. That, coupled with their rapid growth, has presented challenges of its own. For the past three years, the company has handled fulfillment on its own, due to a high standard for quality and product presentation.
At the same time, they didn't want to end up a warehouse operation and fulfillment company. So, they brought in Pitney Bowes as a trusted shipping partner.
"Pitney Bowes is an extension of our current in-house fulfillment in strategic locations fulfilling product where we've perfected the customer experience while our team works on new product launches."
"They're a flexible and collaborative partner, added Marlon Nepomuceno, quip Logistics and Fulfillment Manager. "We were able to collaboratively streamline our fulfillment process to decrease costs and avoid using outdated 3PL costing models. We are working with them  on strategically segmenting orders to drive down transit times and improve the customer experience."
In selecting Pitney Bowes as a shipping partner, quip's overall goal is to deliver the high-quality customer experience they pride themselves on, while continuing to expand with cross-border and international shipping areas of huge value.
Delivery, Fulfillment and Returns
Pitney Bowes empower retailers to exceed their customers' post-purchase experience expectations—and accomplish much more.