Celebrating a culture of innovation
Innovation happens across Pitney Bowes every day and has been a part of our culture for over 100 years. Technology, process and business model innovation drive our culture with the goal of making things better for our clients, employees, and the business.
One of the ways we celebrate innovation at Pitney Bowes is by hosting our annual Innovation of the Year awards. Teams across the company have the opportunity to share their stories in a friendly competition judged by our senior management team and global employees. Hosted by CEO Marc Lautenbach and CIO James Fairweather, this year there were 62 nominations submitted across global geographies, functional teams and shared services.
"The impacts from our innovations span from revenue growth, profitability and improved client experiences to faster delivery of our capabilities and greater data-driven decision making," said CIO James Fairweather during this year's award ceremony.
The Innovation of the Year awards is an opportunity for teams to showcase their successes and highlight their innovation leadership. Teams submit videos that help to bring inspiring stories to life and share lessons learned with their peers. Each year, winners set new standards for creating new value and improving client interactions through process, continuous and disruptive innovations.
Process Innovation. Innovations that have changed how products and services are developed, delivered new approaches to the market, enabled production and service level improvements, reimagined client support or established processes that delivered critical changes for Pitney Bowes.
Continuous Innovation. Innovative work that was completed within existing Pitney Bowes solutions or services which substantially improved our value proposition to clients, our position versus competitors, or had a significant revenue and profit impact on Pitney Bowes.
Disruptive Innovation. Innovation that delivers new business models, or new industry ideas. Solutions that allow Pitney Bowes to enter new product categories or leverages new technologies or combinations of capabilities to enter a new market or client segment.
The Innovation team at Pitney Bowes is comprised of diverse, inclusive communities around the globe that build the foundation for our technology evolution, inspire innovation across the company and reimagine the client experience.
We want to congratulate the 2023 Pitney Bowes Innovation Award winners for their brilliant and inspiring contributions which drive our deep culture of innovation across the business. Here are the winning entries:
1st Place for Continuous Innovation: Global Ecommerce Network Redesign
A redesign of our network to better leverage our recent investments and deliver greater value in an evolving client landscape.


1st Place for Process Innovation: Novel Cloud Architecture
A verifiable and immutable transaction accounting system that can be implemented for postal and non-postal use cases.


1st Place for Disruptive Innovation: PitneyShip Cube
The first of its kind, all-in-one Wi-Fi enabled shipping label printer with a built-in scale.

A digital workplace management system for staff, contractor and visitor access that improves security in the new world of hybrid work.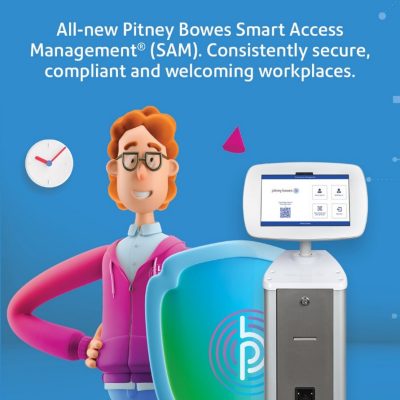 The annual event continues to be a great way to garner recognition among well deserving teams, inspire new ways of thinking and drive a client-centered culture across Pitney Bowes. We look forward to seeing the new and inventive stories unfold for 2024.