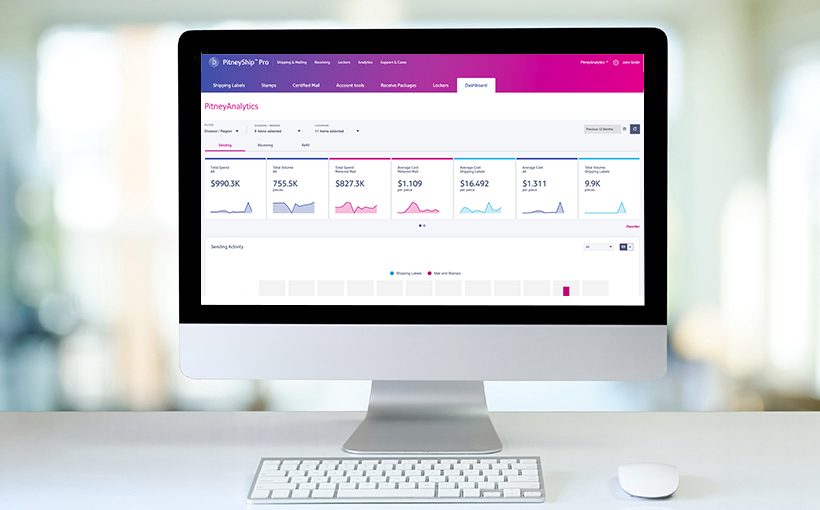 PitneyAnalytics™
PitneyAnalytics, our cloud-based analytics solution, provides proactive insights to improve operations across your organization, regardless of user, carrier, or location.
Learn how simplifying sending and receiving data across your suite of Shipping 360 platform products is right for you.
Request More Information
Detailed visibility on usage, spend, and performance by location, product and users.
Insights and recommendations that suggest ways to improve your operations.
Intuitive interface makes acting upon data and insights quick and easy.
FAQs
1. What is PitneyAnalytics?
Built on our Shipping 360 platform, PitneyAnalytics is a cloud-based solution that aggregates data across different Shipping 360 and SendPro solutions. It provides organizations with a holistic view of their shipping, mailing, receiving and distribution operations.
2. What information can I view with PitneyAnalytics?
With PitneyAnalytics, you can view shipping, mailing, and receiving data in one place without searching multiple sources of data. It also helps you visualize data more easily with the an actionable dashboard and an interactive spend map.
3. Who is PitneyAnalytics ideal for?
If you're a Pitney Bowes client with sending, receiving, tracking, and distribution solutions who wants to access important data from these solutions in one centralized place, PitneyAnalytics is ideal for you.