Las Vegas Mega Center
New to presorting?
You've come to the right place.


The first two things to know about presorting your mail:
1. It saves you money – maybe a lot of money.
2. It is complex, but no worries. We handle the whole process.

"A new client saved 5¢ on every piece of First Class® mail, netting $50,000 in the first year."
– Scott Woodford, Pitney Bowes Presort Mail Consultant 

Get this valuable new eGuide.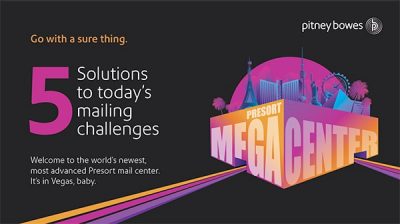 Improve your entire mailing operation. Find out how you can:
Find greater savings in how you mail
Discover discounts in more classes of mail
Automate processing for greater precision and efficiency
Simplify compliance with USPS® requirements
Avoid delivery challenges with resilient processes