See How PitneyShip™ Simplifies Small Business Shipping
From kitchenware to custom t-shirts and everything in between, there's no limit to what small online businesses can offer and sell online.
That's why Pitney Bowes developed the PitneyShipTM shipping software, with small business owners and online sellers in mind. With so many things to do, it can be hard to keep track of what to do. And when every dollar counts, you can't afford to overspend on things like shipping costs.
Meet Teresa Fenner. A few years ago, Teresa decided to pursue her passion for pottery and start an online business, Avon Crest Creations. Although she knew pottery like the back of her hand, she was not an expert in shipping merchandise. 
Did she need to drop her orders off at the post office?Would she have to buy boxes and packaging materials there? 
If so, what kind would she need?
That's when she discovered PitneyShip, the small business shipping software from Pitney Bowes. PitneyShip took the guesswork out of her shipping needs and let Teresa simplify her workflow by doing everything from the comfort of her home office.
Avon Crest Creations was a brand-new business where every dollar counted. Thanks to the help of PitneyShip, Teresa was able to achieve 3 major objectives:
She saved time by printing shipping labels at home, scheduling pickups for orders, and by comparing the best shipping options quickly using one suite.
She saved money by getting access to preferred USPS® rates, by accurately weighing packages, and by finding the fastest or least expensive shipping option for every package she shipped.
And she saved herself a lot of headaches by keeping everything organized by tracking order across multiple carriers in a single suite while taking the guesswork out of multi-carrier shipping.
The Shipping Software that Adapts as You Grow

Maybe what started as a passion project or a side-hustle has suddenly blossomed into a thriving business. Maybe you're thinking about scaling up your operations or ecommerce website.
Whatever the case, PitneyShip will be there with you every step of the way and adapt to your needs as your online business grows.
See How PitneyShip Simplified Shipping for These Other Unique Businesses
Artists and entrepreneurs from all walks of life have come to trust PitneyShip for their parcel shipping and delivery needs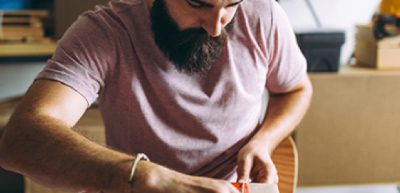 No matter what kind of platform you use to sell your goods, PitneyShip can help you reduce your shipping overhead and help you better run your online business.
See how you can ship orders quickly and easily while putting more money back into your small ecommerce business with PitneyShip.