Insert
Improve speed, compliance and flexibility by inserting mail accurately and securely.

Sort
Cut costs and boost compliance by sorting and tracking mail.

Print
Create customer value and engagement by printing impactful mail efficiently.
Sorting solutions

Our automated mail sorting solutions reduce operating costs and improve mailroom productivity.
EZ-Flats sorting system
Take advantage of a lower cost of entry for a new level of First-Class® flats discounts.
Mailers looking for the largest postal discounts can now sort up to 2,000 mailpieces per hour in one pass.
Reliant™ sorting solution
Achieve bigger sorter capabilities in a small package.
Our low- to mid-volume mailers can quickly process more mail at speeds up to 18,000 pieces per hour.
Vantage™ mail sorting machine
Combine speed and endurance to achieve high operational throughput.
Our innovative feeder technology enables high sorting speeds up to 45,000 pieces per hour.
Vantage™ Lockbox mail sorting solution
Accelerate the flow of incoming payments and cash deposits.
Our remittance mail sorting solution processes up to 45,000 pieces per hour, including in-line openers and sequencing capabilities.
VariSort™ mixed mail sorter
Automate difficult-to-sort flats and small parcels.
Process a wide range of mail at speeds up to 8,000 pieces per hour with our modular sorting system.
Relia-Vote™ automated mail ballot solutions
Bring integrity to mail ballot processing with automation.
Relia-Vote from Pitney Bowes presents an automated process for vote-by-mail ballot operations.
OnDemand and Presort Mailing Services
Our presort operating centers simplify the logistics of mail.
We pick-up, sort, and induct your mail into the USPS® network. Plus, we'll track and deliver mail to its final destination.
Sorting software

Our SortEngine™ software ensures your sorter is fully compliant with USPS mailing regulations.
Printing solutions

Our digital color inkjet systems create engaging, personalized and accurate mailpieces.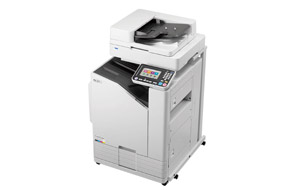 RISO ComColor® FW Inkjet Printers
Accelerate your print and mail process.
The ComColor FW printers combine ultra-fast printing speed with inkjet printing technology. This prevents paper curl and reduces paper jams typically experienced from traditional toner-based printers.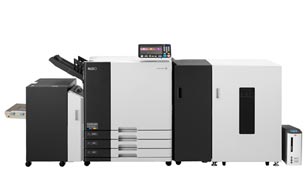 RISO ComColor® GD Inkjet Printers
Put your high-volume inkjet print and mail production process on the fast track.
This world-class inkjet solution combined with a new Fiery® RIP improves the productivity of your print, while making your end-to-end mailing process faster and more efficient.
AcceleJet® printing and finishing system
Accelerate your path to color with a high-quality inkjet printing solution.
Our cost-effective solution features built-in flexibility for print speed, color quality and finishing.
IntelliJet® print solutions
Make your move to digital color with our IntelliJet printing solutions.
Produce high volumes of personalized, transactional bills and statements in full color, quickly and cost effectively.
Printing accessories

Modules that seamlessly integrate with printers to improve operational efficiencies.
Print+ Messenger™ color inkjet system
Our high-quality color inkjet printing transforms white envelopes.
Integrate Print + Messenger with our inserters to print high-impact color and graphics on envelopes.
Print+ Response™ inkjet module
Print personalized remittance envelopes and inserts at industry-leading speeds.
Integrate Print + Response with our inserters to print at speeds up to 26,000 mailpieces per hour.
Recognition