EZ-Flats™ sorting solutions
Leverage greater postal discounts.
The EZ-Flats and EZ-Flats Pro systems are ideal for anyone who processes more than 200 flats or small parcels per day.
Vantage™ sorting solution
High-speed letter processing with in-line options.
A flexible and customizable mail sorting system with a throughput of up to 45,000 pieces per hour.
VariSort™ mixed mail sorter
Automate virtually any sorting opportunity.
Process a wide range of mail at speeds up to 8,000 pieces per hour with our modular sorting system.
Relia-Vote™ automated mail ballot solutions
Bring integrity to mail ballot processing with automation.
Relia-Vote from Pitney Bowes presents an automated process for vote-by-mail ballot operations.
TrueSort®
Automated high-speed parcel sorting.
Sort up to 14,000 parcels per hour depending on the tray configuration with this flexible and modular sorting solution.
OneSort® automated data capture solutions
Dimensioning and data capture at its best.
OneSort solutions provide all of the automation needed for enhanced parcel processing and management.
Ideas & insights to help grow your business
Printing solutions

Our digital color inkjet systems create engaging, personalized and accurate mailpieces.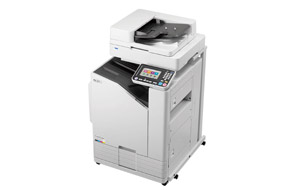 RISO ComColor® FW Inkjet Printers
Accelerate your print and mail process.
The ComColor FW printers combine ultra-fast printing speed with inkjet printing technology. This prevents paper curl and reduces paper jams typically experienced from traditional toner-based printers.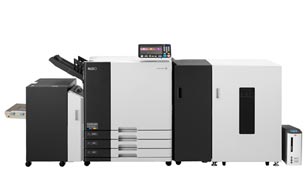 RISO ComColor® GD Inkjet Printers
Put your high-volume inkjet print and mail production process on the fast track.
This world-class inkjet solution combined with a new Fiery® RIP improves the productivity of your print, while making your end-to-end mailing process faster and more efficient.
AcceleJet® printing and finishing system
Accelerate your path to color with a high-quality inkjet printing solution.
Our cost-effective solution features built-in flexibility for print speed, color quality and finishing.
IntelliJet® print solutions
Make your move to digital color with our IntelliJet printing solutions.
Produce high volumes of personalized, transactional bills and statements in full color, quickly and cost effectively.
Printing accessories

Modules that seamlessly integrate with printers to improve operational efficiencies.
Print+ Messenger™ color inkjet system
Our high-quality color inkjet printing transforms white envelopes.
Integrate Print + Messenger with our inserters to print high-impact color and graphics on envelopes.
Print+ Response™ inkjet module
Print personalized remittance envelopes and inserts at industry-leading speeds.
Integrate Print + Response with our inserters to print at speeds up to 26,000 mailpieces per hour.
Ideas and insights to help grow your business